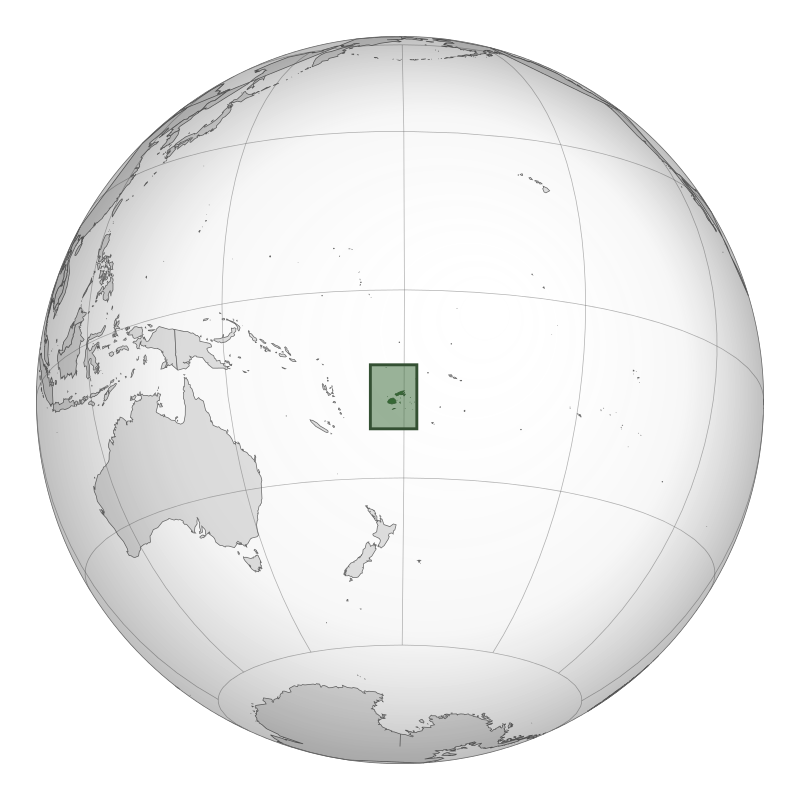 The Republic of Fiji is an archipelago located in the South Pacific, about 3000 km (2000 mi) east of Australia. Its closest neighbors are other archipelagos, such as Vanuatu and New Caledonia in the West, and Tonga and Samoa in the East. Fiji consists of 332 islands, of which about a third are inhabited. It has a population of 900.000, 87% of which live on the two main islands: Viti Levu and Vanua Levu. Suva, the capital city, is located on Viti Levu. Fiji was a British colony from 1874 until 1970, before gaining independence as the Dominion of Fiji. It became a republic in 1987, with the capital of Suva. Official languages are English, Fijian and Fijian Hindi. The President of Fiji is George Konrote and the Prime Minister, and President of COP23, is Frank Bainimarama.
Introduction
As one of twenty Small Island Developing States (SIDS) in the Pacific, Fiji is on the frontlines of Climate Change. The island nation experiences the effects of a warming globe first-hand, with floodings, tropical storms and earthquakes becoming significantly more frequent and damaging, leading in return to a volatile economy and insecure food production on the islands. With less than one million inhabitants, Fiji only contributes 0.04% of the world's Greenhouse Gas (GHG) Emissions. Nonetheless, the small country has pledged to be ambitious in its contributions towards tackling global emissions, aiming to set an example for bigger countries that can make a bigger impact.
Nationally Determined Contributions by Fiji
Climate-related policy-making in Fiji goes back at least to 1992, when the country became a party to the then-established United Nations Framework Convention on Climate Change (UNFCCC). Since then, Fiji has adopted many policy programs and regional or international agreements on the topic, such as the Barbados Plan for Action in 1995, the Mauritius Strategy 2002-2015, its own National Climate Change Policy of 2012, the Pacific Island Framework for Action on Climate Change 2006-2015, as well as the Post 2015 SAMOA Pathway. In the Nationally Determined Contributions (NDC) submitted after the Paris Agreement on Climate Change after 2015, Fiji works with a Baseline or BAU target with the reference year of 2013. The NDCs submitted by Fiji are specific to the energy sector and aim for a reduction of emissions by 30% until 2030 compared to 2013. Specifically, Fiji aims to cut
10% of all emissions through increased energy efficiency as an unconditional pledge via national resources, and
20% of all emissions through an increase in the use of renewable energies to 100% by 2030 as a conditional pledge dependent on international funding.
To reach these goals, Fiji pledges to focus on diversifying its renewable energy portfolio by including hydro, geothermal, biomass, and wind and solar energy but highlights that it needs external funding of at least US$ 500 Million. According to the Fijian government, mitigation cannot come at the expense of raising the living standards of the population, especially for a low-income country with emissions that are far below the global average.[1] Cutting emissions in a way that is cost-intensive, but not contribute to the global decrease in emissions, are therefore not possible without outside funding. Additionally, Fiji focuses on adaption mechanisms to improve the resilience of local communities to Climate Change. Measure related to this include improved early warning systems, construction of dams further in-land or the planting of trees to offset erosion. The urgency of adaptation in Fiji becomes evident when seeing that the government strategy also includes the relocation of entire communities to higher grounds.
NDC Implementation Roadmap in Fiji
As a follow-up to submitting its NDCs, Fiji has worked out an NDC Implementation Roadmap 2017-2030. It is one of the first countries to develop such a roadmap, after having been the first party to ratify the 2015 Paris Agreement. The roadmap is coordinated by an NDC Implementation Unit, with financial oversight from the Budget and Aid Coordinating Committee of Fiji. The government estimates that with total investments of US$ 2.97 Billion, Fiji will be able to reduce its annual CO2 emissions by almost a third to 627,000 tons by 2030. The roadmap, as Fiji's NDC's, focuses exclusively on the energy sector and is divided into three sub-sectors that each have specific goals that are to be implemented through differentiated short-, medium- and long-term actions.
The first subsector is Electricity Generation and Transmission, in which the goal is to save 427,000 tons of CO2 per year through an investment of US$ 1.671 Billion, through additional renewable energy generation via
biomass (saving 212 kilotons per year),
hydro power (saving 88 kilotons per year),
solar PV (saving 72 kilotons per year),
as well as improving storage and extending existing energy grids (saving 55 kilotons per year).
The second subsector listed in the roadmap is Demand-Side Energy Efficiency, in which the goal is to save 30,000 tons of carbon emissions per year through an investment of US$ 150 Million. This should be achieved via
Energy Labelling and Minimum Energy Performance Standards for electrical appliances (saving 15 kilotons per year),
Energy Efficiency in the Business Community (saving 9 kilotons per year),
Energy Efficiency in the Public Sector (saving 5 kilotons per year), and
Updated Codes and Standards for Buildings (saving 1 kiloton per year).
The third and final subsector targeted by the roadmap is Transport, which is included in the energy sector, in which the goal is to save 137,000 tons of CO2 per year through an investment of US$ 1.149 Billion. This, again, should be achieved via
Programs to replace old vehicles with more energy-efficient ones (saving 95 kilotons per year),
The use of biodiesel (saving 37 kilotons per year), and
Improved maintenance of sea vessels (saving 5 kilotons per year).
Conclusion
As one of the larger Small Island Developing States in the Pacific, Fiji is one of the countries with the most committed approach when it comes to tackling Climate Change. During its presidency of COP23 in 2017, Fiji announced the establishment of a Regional Pacific NDC Hub in Suva, Fiji to help other Pacific island nations to develop solutions to mitigate and adapt to a changing climate. During COP24 in 2018, Fiji announced that, along with the Marshall Islands, it will become the first country to voluntarily raise its NDCs by 2023 and commit to net zero emissions by 2050. Policies such as these show how serious Climate Change is to countries that are not only directly affected but fight for their very survival. Other countries should listen to those on the frontlines and support their ambitious efforts by raising their own ambitions to make sure the commitment of Fiji and other SIDS will not be futile.
Larissa Saar is a member of the German Junge Liberale (JuLis) and a Libel editor. She attended COP24 in Katowice as a delegate for IFLRY. She is currently doing a Master's in International Peace Studies at Trinity College Dublin. You can contact her via email: larissa.saar@julis.de
---
[1] Emissions in Fiji are approximately 1.5 tons of CO2 annually, compared to a global average of 5.6 tons.