Flooding in Japan, heatwaves in Canada and wildfires in Europe: 2018 couldn't be a more important year for climate action.
With this summer's flooding in Japan, deadly heatwaves in Canada, and record-setting wildfires raging across Europe, California and Canada's west coast– the setting for climate change action this year couldn't come at a more pressing time. Extreme weather events will become more frequent and more severe if no significant action to address climate change is taken. As recent studies in attribution science posit, man-made climate change is increasing the likelihood and intensity of extreme weather events. Action on climate cannot be postponed any longer.
In 2015 around 200 countries agreed to limit temperature rise to "well below" 2 degree Celsius above pre-industrial levels, a threshold above which climate change would start to take on much more serious proportions. However, a new report warns that the Paris Agreement's 2 °C target may not be enough to  safely "park" the planet's climate at a stable temperature as this might trigger the earth's system's processes driving further warming to an irreversible "hothouse state". This would mean a global temperature increase of 4-5 °C higher than pre-industrial levels, and sea level 10-60 m higher than today – making some places on earth uninhabitable.
If the world is already witnessing unprecedented extreme weather events with current global temperatures just over 1 °C above pre-industrial levels, one can only imagine what a 4-5 °C increase would do if this hothouse state becomes a reality.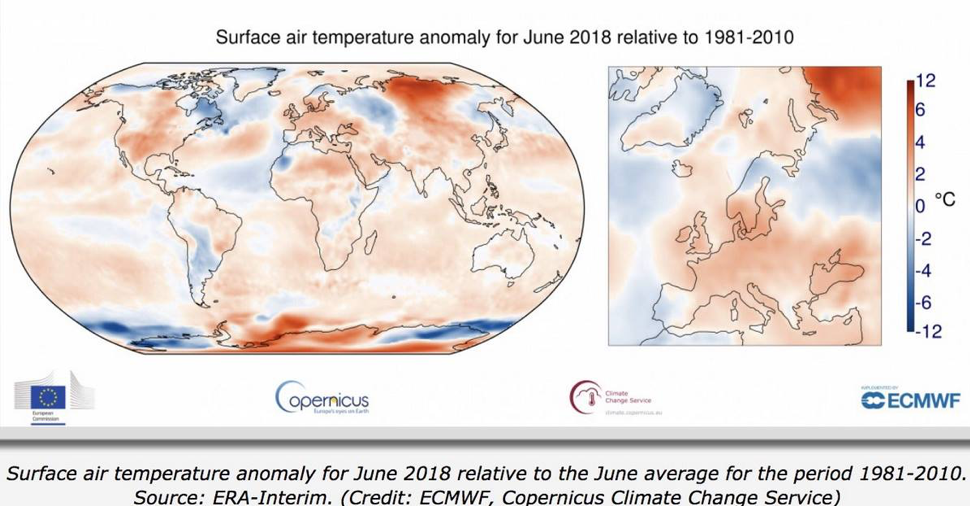 It is therefore fitting, that the global effort to combat climate change is becoming more intense and that stakes are high for this year. Against the backdrop of this year's record temperatures and extreme weather, 2018 is a year for climate ambition.
This year, countries are discussing ways to enhance their commitments to reduce greenhouse gas (GHG) emissions (known as Nationally Determined Contributions or NDCs) as part of the Talanoa Dialogue, in relation to the long-term goals of the Paris Agreement.
This fall, the Intergovernmental Panel on Climate Change will release its Special Report on the impacts of global warming under a 1.5 °C increase in temperature scenario, as well as related global greenhouse gas emission pathways. The intent is to draw greater collective determination and political will for climate action and sustainable development.
Finally, this year will culminate in December with the adoption of the Paris Agreement Work Program (PAWP) at the UN climate negotiations in Katowice COP24. The Work Program is a set of governing rules that will make the Paris Agreement fully operational and will bring to life the legal instruments to track countries' progress in a transparent way (for more context on the Paris Agreement Rulebook and the Talanoa Dialogue read this Libel article).
In preparation to COP24, this week kick-started the United Nations climate working session in Bangkok with negotiators from over 190 countries striving to deliver a streamlined draft of the Paris Agreement's Rulebook, so that it is ready for negotiation and adoption at COP24.
With these important months ahead, IFLRY's Climate Change Programme (CCP) will be in the middle of the action. We will be tracking the Bangkok Climate Negotiations this week, and we'll be attending COP24 this December. If you want to keep up to date with our delegates and other climate change related developments, then follow us on Facebook and Twitter.
On top of that, we will be publishing and article series here on Libel, looking at individual countries, and whether or not they are on path to meet the climate targets they committed to under the Paris Agreement – stay tuned!
Perla Hernandez is a member and Co-Programme Manager of the Climate Change Programme. Perla is political science master's student at Memorial University where she focuses on climate mitigation. She attended COP23 with IFLRY and COP18 as youth delegate. Contact: perlahg@mun.ca / Twitter: @Perla_hg