Meet Laura Fagerlund. Laura is a Vice President of IFLRY and a Council member of the Swedish Youth of Finland. She is currently living in South Africa, where she is doing an internship with the main opposition party, the Democratic Alliance. In her blog, Laura gives you a first-person account of what it's like for her to live and work halfway around the world in a country that couldn't be more different from her native Finland.
You can find her other blog posts here.
I've been in this beautiful city for a month now. I definitely feel more settled than I did when I got here – I am a creature of habit, and now that I have found my daily routine, life here feels more like home. On my way home from work is a shopping mall with grocery stores, a pharmacy, a café and smaller shops, which makes it easy for me to just stop by on my way home. I have a bigger understanding of the city and the different city areas, and I am used to the coldness (even though I am looking forward to sunny and warm days). I live in Vredehoek, which is part of a suburb called the City Bowl. The DA's office is also located in the City Bowl, as well as the Central Business District. In the suburb Atlantic Seaboard you also find beautiful neighbourhoods like Green Point, Sea Point and Camps Bay. I haven't explored these areas much yet, but I certainly will when the spring arrives. As I explained in a previous post, it is quite cold here since it is winter. Obviously I have experienced much colder weather in Finland, but the buildings in Cape Town usually don't have any heating, so it can be quite cold inside as well.
Work has been interesting. For example, I have worked on a briefing document for an upcoming trip to Taiwan. I enjoy tasks like these, because I learn a lot about another country and its culture and politics. For example, I've been reading about the upcoming general elections. In January 2020, Taiwan will elect a new President, Vice President and members of the Legislative Yuan. This election will be especially interesting because of the protests in Hong Kong – Taiwan and Hong Kong share a similar relationship to China. If you want to read more about it, I found a good article here. I am also in charge of the Office's International Brief (the Newsletter) which means I have to follow South African politics closely and gather the most relevant news from a DA perspective. This teaches me a lot about what is happening in the country. If you have any tips on books, podcasts, movies, whatever, on South Africa that you think might be helpful for me, let me know! One article I found interesting was this one on recycling in South Africa. It is way more difficult to recycle here than back home in Finland, and while we in Finland think of recycling as an individual responsibility, recycling in South Africa is driven by economics. To build a sustainable recycling industry is problematic, as explained in the article: "A key contribution to our recycling statistics is the informal waste recycling industry: the waste pickers who collect recyclables from landfills, dustbins, as well as those who collect from drivers at the traffic lights. And it is often their only source of income."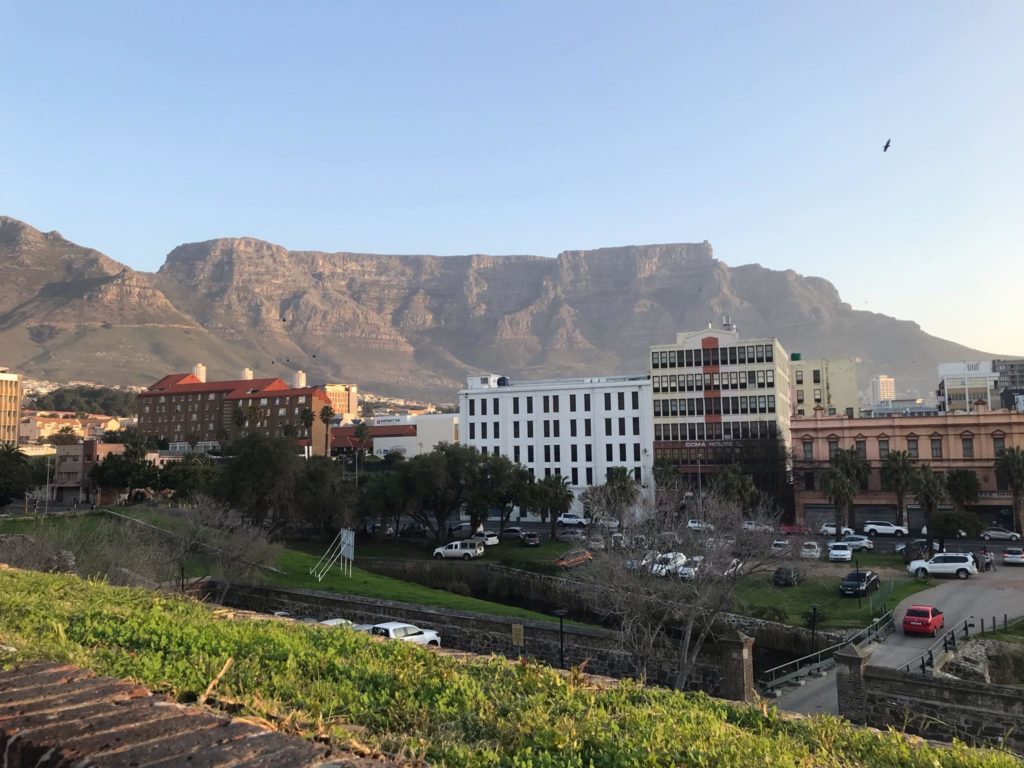 In my free-time, I've hung out with friends, explored some of the local pubs and chilled at home. When I got here I became friends with a girl from Florida through another intern, and she is living with me until my roomie gets here at the end of August. Through her I've gotten to know a lot of people, mostly foreign but also some South Africans. As I wrote in my last blog post, Cape Town has an amazing food culture and I am happy to have found friends here with the same interest in food as I have. I've visited restaurants in town, eaten street food and spent a day at wine farm. After my internship, I hope to have gathered a map of great restaurants and cafés in the area – not to mention more knowledge in South African wines!
Are you interested in writing a blog yourself? Then please write us an email at libel@iflry.org.
Laura Fagerlund is a Vice President of IFLRY and a Council member of the Swedish Youth of Finland. She just finished a degree in Political Science at Åbo Akademi University in Finland. You can contact her via laura.fagerlund.gy@gmail.com or on Twitter: @laurafagerlund