— Véase más abajo para la versión española de este artículo. —
The title of this article refers to the cover of the August-22nd edition of Time magazine entitled "Venezuela is dying". The edition tries to explain how Venezuela, once Latin America's richest country, fell apart. This not a lie. Part of what I want to say, while I'm writing these lines, is precisely what's going on today in my country.
Many of you already know that my country is governed by an authoritarian regime; a modern dictatorship. In Venezuela there are political prisoners, Twitter users in jail for expressing their ideas, media censorship, repression, torture and a host of elements that define us as a dictatorial country. But there is an even worse dimension: we are in a humanitarian crisis.
The general atmosphere of anarchy that has spread to every corner of the country has claimed as its victims the thousands of families that cannot find or afford basic food staples, medicines or even a minimally equipped hospital in which to receive medical care. More than 80% of basic food products are missing from supermarket shelves; there are people eating only a mango a day. Citizens are stuck in supermarket queues or going to Colombia looking for food, crossing the closed borders with that country, especially brave mothers in search of food for their children. Because of them, the government was forced to reopen the border.
Only 10% of the necessary pharmaceuticals and basic medical equipment is available. Many newborn children die only hours after being brought into this world due to infections and lack of clinical supplies (probably more than 700 at this date, because we don't have official data). Children are also dying of hunger.
Violent crime in Venezuela has also reached an unparalleled level of bloodshed. There are reports of 119 murders for every 100.000 inhabitants in Caracas by this year, making our capital the most violent city in the world; every 19 minutes a Venezuelan is killed by crime.
As Venezuelans we know that this situation must change. There are constitutional mechanisms to end this regime. However, the government uses manipulation and dilatory tactics  in order to prevent their activation, as it has done in the past. Therefore, thousands of citizens have embarked on a process to collect signatures in support of a referendum to recall President Nicolas Maduro, as is their constitutional right.
Of course, the election commission, controlled by the regime, has done everything possible to postpone the realization of the referendum next year for one reason: If they do it this year, they should hold presidential elections in 30 days, causing a government change; but if they do it next year, the Vice President, appointed by Maduro and by constitutional mandate, assumes power until the end of presidential period, in 2019, extending the suffering and making the chavismo remain in power. We cannot wait until that date, and therefore we will not allow Maduro's recall next year. Waiting means more hungry and dead people.
We are millions of Venezuelans who are willing to strive for political change this year. We will do it, ignoring the decision of the election commission and ignoring the dates they intend to mock us with. With full exercise of our civil disobedience, and in fulfilment of our constitutional rights, we will be in the streets, making pressure for a referendum date in this year and fighting to regain freedom and democracy.
More than 80% of the country wants to change the government and we will succeed. Only through the uncompromising effort of an organized Venezuelan people, pressuring and demanding that our voices be heard, will this regime understand that they must go.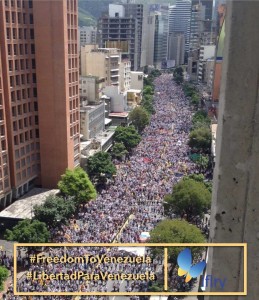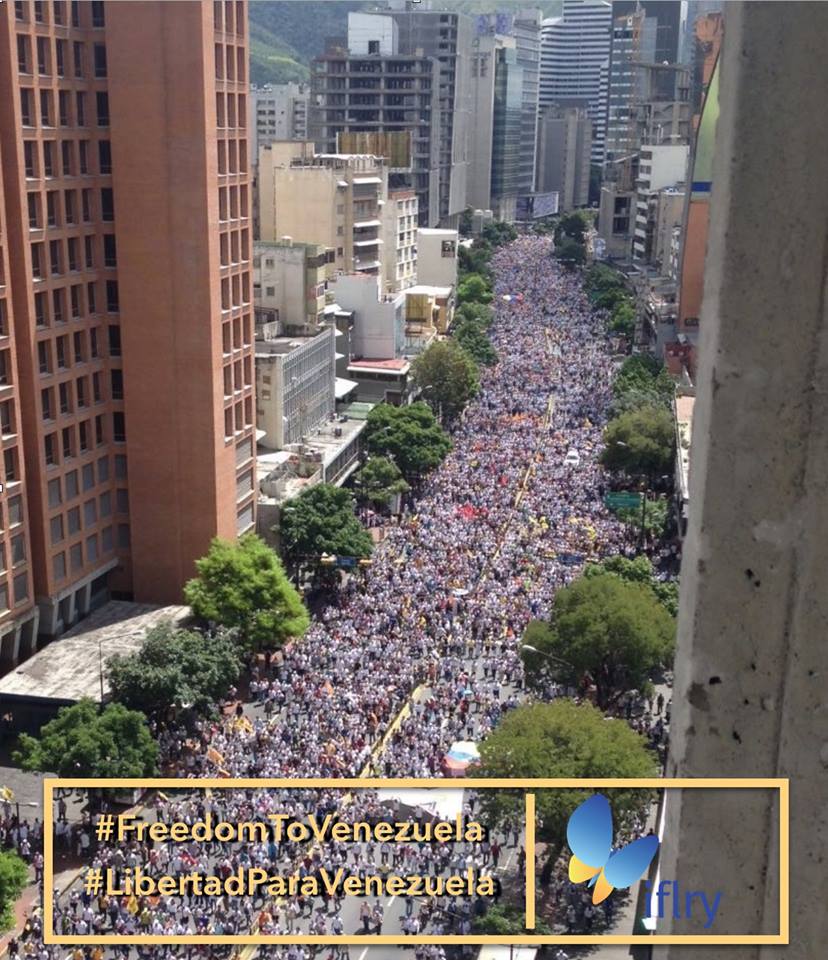 In that sense, after overcoming all kinds of obstacles, persecutions, and threats, and even after Maduro's regime arbitrarily imprisoned opposition members, on September 1st up to one million people from all over Venezuela went to the streets of Caracas, protesting against the government and demanding their constitutional rights for the presidential recall referendum in 2016. Food shortages, insufficient health care and a democracy in decline are the effects of Venezuela's socialist rule.
It was one of the largest mobilizations of our contemporary history. Fear was defeated and the hope of a better country, in freedom and democracy, reborn. Therefore, we will continue on the streets, fighting for our dreams.  This is our commitment to the future and to our nation.
Nicolas Maduro's stay in power is no longer measured in years, but in lives. His government must allow the recall referendum on this year or resign, and freedom must prevail.  
Time is over… Venezuela is dying.
Pedro Urruchurtu (25, Venezuela) He is IFLRY Latin America Programme Manager and International Officer of Vente Joven, the young branch of Vente Venezuela, where he is a part of the International Office, too. During more than three years Pedro has been working with Maria Corina Machado, one of the most important opposition leaders in Venezuela and Vente Venezuela's national leader. He is Professor of History of International Relations in the Political Science School of the Central University of Venezuela. In January 2016, he attended to the Georgetown University's Global Competitiveness Leadership Program. He got his degree Magna Cum Laude in Political Science, International Relations, a mention at the Central University of Venezuela and is finishing a Major in Politics and International Law at the same university. If you want to e-mail Pedro, you can reach him at pedro.urruchurtu@iflry.org
— Spanish version —
Sí, Venezuela está muriendo (*) | Pedro Urruchurtu (**)
El título de este artículo se refiere a la portada de la edición del 22 de agosto de la revista Time, llamada "Venezuela está muriendo". La edición trata de explicar cómo Venezuela, alguna vez el país más rico de América Latina, se fue al foso. No es mentira. Parte de lo que quiero decir, mientras escribo estas líneas, es precisamente qué está pasando hoy en mi país.
Muchos de ustedes ya saben que mi país es gobernado por un régimen autoritario; una dictadura moderna. En Venezuela hay presos políticos, usuarios de Twitter en la cárcel por expresar sus ideas, censura a los medios, represión, tortura y un conjunto de elementos que nos definen como un país dictatorial. Pero hay inclusive una peor dimensión: estamos en una crisis humanitaria.
La atmósfera general de anarquía que se ha esparcido por cada esquina del país ha reclamado como sus víctimas a miles de familias que no pueden encontrar o no puede pagar alimentos esenciales, medicinas o incluso un hospital dotado con lo mínimo para recibir cuidados médicos. Más del 80% de los alimentos básicos faltan en los anaqueles de los supermercados; hay personas que sólo comen un mango al día. Los ciudadanos están en atrapados en colas en los supermercados o yendo a Colombia en búsqueda de comida, cruzando la frontera cerrada con ese país, en especial las valientes madres que buscan comida para sus hijos. Por ellas, el gobierno se vio obligado a reabrir la frontera.
Sólo el 10% de los medicamentos necesarios y los equipos médicos básicos están disponibles. Muchos niños recién nacidos mueren horas después de haber venido al mundo debido a infecciones y ausencia de insumos médicos (probablemente más de 700 a la fecha, ya que no existe data oficial), pero también están muriendo niños de hambre. El crimen en Venezuela también ha alcanzado un incomparable nivel de matanzas. Hay reportes que hablan de 119 asesinatos por cada 100.000 habitantes en Caracas para este año, haciendo de nuestro capital la ciudad más violenta del mundo; cada 19 minutos un venezolano es asesinado por el hampa.
Como venezolanos sabemos que esta situación debe cambiar. Hay mecanismos constitucionales para darle fin a este régimen. Sin embargo, el gobierno utilizó tácticas dilatorias y de manipulación con la intención de prevenir su activación, como lo han hecho en el pasado. Por ello, miles de ciudadanos han emprendido un proceso para recolectar firmas en apoyo a un referéndum revocatorio contra el Presidente Nicolás Maduro, como su derecho constitucional.
Por supuesto, el órgano electoral, controlado por el régimen, ha hecho todo lo posible para posponer la realización del referéndum hacia el año próximo por una razón: si ellos lo hacen este año, deben celebrar elecciones presidenciales en 30 días, por lo que el gobierno cambiaría; pero si lo hacen el año próximo, el Vicepresidente, nombrado por Maduro y por mandato constitucional, asume el poder hasta el final del período presidencial en 2019, extendiendo el sufrimiento y haciendo al chavismo permanecer en el poder. No podemos esperar hasta esa fecha y, por lo tanto, no permitiremos el referéndum revocatorio el próximo año. Esperar significa más hambre y gente muriendo.
Somos millones de venezolanos dispuestos a luchar por un cambio político en este año. Lo haremos, ignorando la decisión del órgano electoral e ignorando las fechas con las que ellos pretenden burlarse de nosotros. Con el pleno ejercicio de la desobediencia ciudadana, y cumplimiento y ejercicio de nuestros derechos constitucionales, estaremos en las calles haciendo presión por la fecha del referéndum este año y luchando por reconquistar la libertad y la democracia.
Más del 80% del país quiere cambiar el gobierno y lo lograremos. Sólo con el indoblegable esfuerzo de los venezolanos, presionando y exigiendo que nuestras voces sean escuchadas, haremos entender al régimen que se tiene que ir.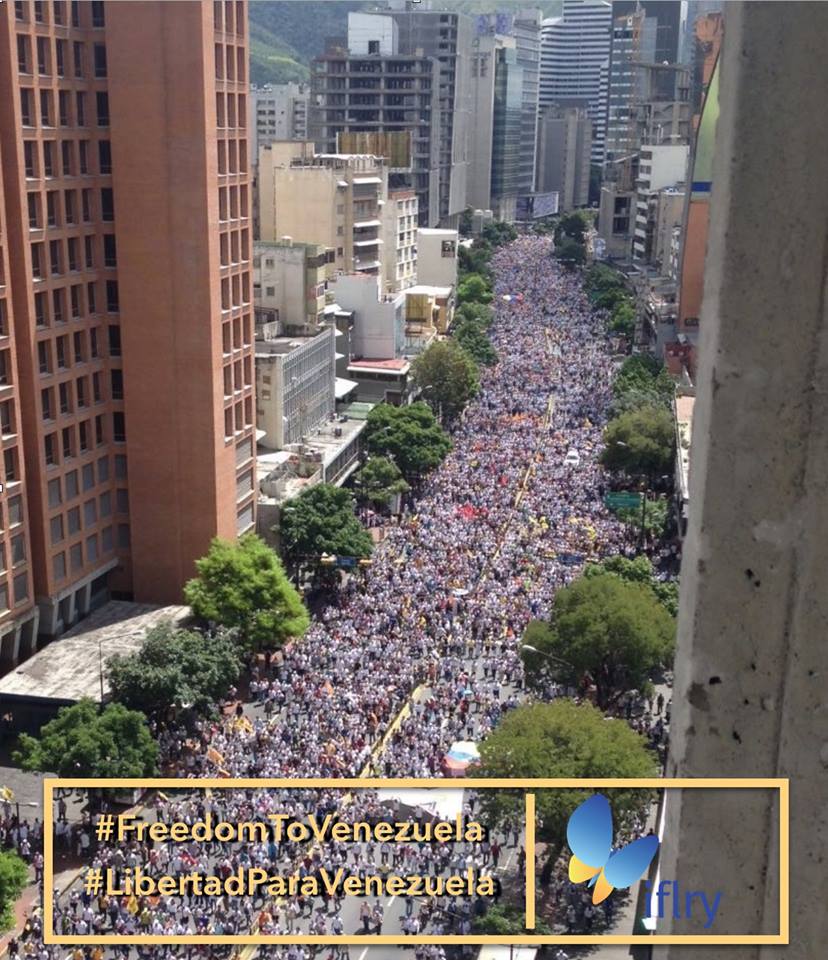 En ese sentido, después de superar toda clase de obstáculos, persecuciones y amenazas, e incluso después de que el régimen de Maduro encarcelara arbitrariamente a miembros de la oposición, el 1 de septiembre alrededor de un millón de personas provenientes de toda Venezuela acudieron a las calles, protestando contra el gobierno y exigiendo sus derechos constitucionales para la realización del referéndum revocatorio en 2016. Escasez de comida, ausencia de cuidados médicos, inseguridad y una democracia en picada son los efectos del gobierno socialista de Venezuela.
Fue una de las más grandes movilizaciones de nuestra historia contemporánea. El miedo fue derrotado y la esperanza de un mejor país, en libertad y democracia, renació. Por ello, continuaremos en las calles luchando por nuestros sueños. Es nuestro compromiso con el futuro y con nuestra nación.
La permanencia de Nicolás Maduro en el poder no se mide en tiempo, sino en vidas. Su gobierno debe permitir el referéndum revocatorio este año o renunciar, y la libertad debe prevalecer.
El tiempo se acabó. Venezuela está muriendo.
Pedro Urruchurtu (25, Venezuela). Es el director del Programa para América Latina de IFLRY y es coordinador internacional de Vente Joven, el brazo juvenil de Vente Venezuela, donde es parte de la oficina internacional también. Durante más de tres años ha estado trabajando con María Corina Machado, una de las más importantes líderes opositoras de Venezuela y líder nacional de Vente Venezuela. Es profesor de Historia de las Relaciones Internacionales en la Escuela de Estudios Políticos y Administrativos de la Universidad Central de Venezuela. En enero de 2016, asistió al Programa para el Liderazgo Competitivo Global de la Universidad de Georgetown, en los Estados Unidos. Obtuvo su licenciatura Magna Cum Laude en Ciencias Políticas, mención Relaciones Internacionales, en la Universidad Central de Venezuela y está culminando una especialización en Derecho y Política Internacionales en la misma universidad. E-mail: pedro.urruchurtu@iflry.org