In this article, I am going to talk about where South Korea is with regards to LGBTQ rights, and how accepted queer people are. I am going to briefly introduce some of the work I have done as a queer individual and as part of South Korea's LGBTQ community.
My name is Heezy Yang. I work on various types of art projects and try to engage in activism and important social movements with my artwork. For the last few years, I have mainly focused on LGBTQ issues in South Korea. This has been because I am a South Korean gay man, but also because I think now is a very important time for the LQBTQ community of South Korea.
The keywords that describe the country's current situation with LGBTQ rights and acceptance best would be 'change' and 'challenge'. The change has already started to happen, however, there are, and there will be many challenging situations that South Korea needs to deal with. South Korea is definitely not the most liberal and progressive country, but it is probably one of the most radically changing countries. You can see it in Korean fashion or in young Koreans' interest in politics, and the impact this has on society.
South Korea has pride parades: three cities (Seoul, Daegu, and Busan) currently host one every year, and Jeju Island province is planning on having its very first pride parade on the 28th of October. The biggest one, with the longest history, is the Seoul one. Its official title is 'Korea Queer Culture Festival'. It started very small back in the year 2000, with only 50 marchers taking part. My first Seoul pride was in 2011 and I remember seeing a few thousand people at the event. This year, at the 18th Korea Queer Culture Festival, there were hundreds of booths, including the booths of international embassies, and 85,000 people that came for the opening show and the parade. Also, each year, I see more and more allies and families with their kids coming to the festival to show support and learn how to accept diversity.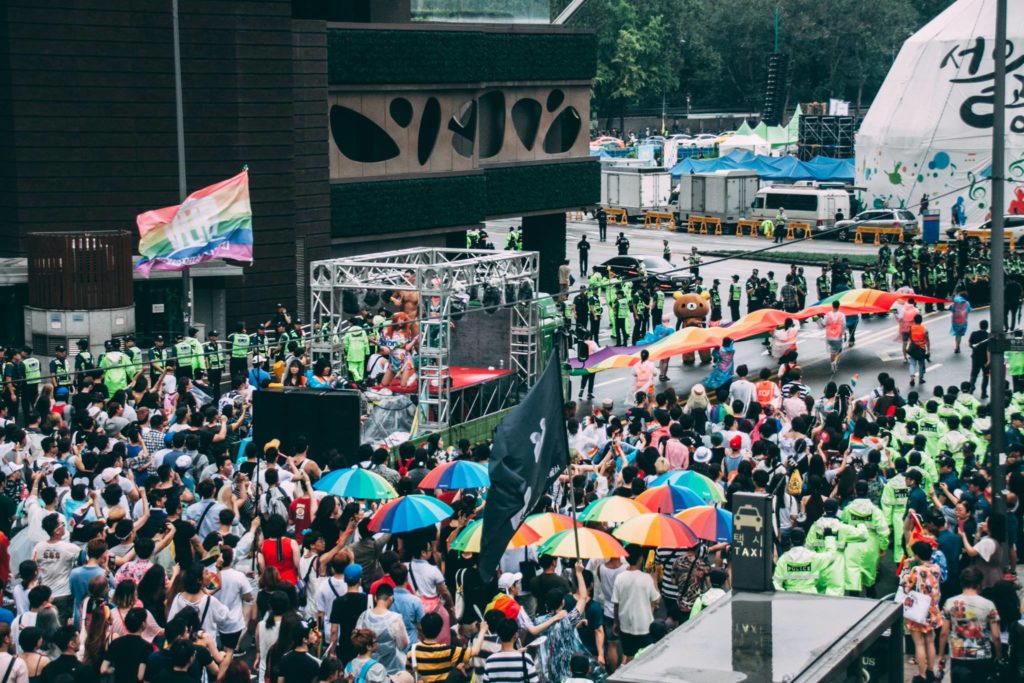 Every year, thousands of Christians get together, right next to the Korea Queer Culture Festival, and hold an anti-LGBTQ festival. In fact, every year, the Korea Queer Culture Festival organisers face lots of governmental interruptions, because of the political power of Christian in South Korea. Anti-LGBTQ Christians and uneducated, conservative, older-generation politicians are the biggest hurdles that Korea's LGBTQ community is facing.
Because of the Christians' lobbying and protests, the Seoul Metropolitan Government has scrapped plans to legislate a human rights charter in 2014. The charter included articles that prohibit discrimination against people based on their sexual orientation, religion, and other factors.
During the 2017 presidential campaign, we witnessed how much politicians are still afraid of the Christians. Moon Jae-in, the most popular candidate at the time, was asked whether he opposed homosexuality by a conservative candidate on a live television debate. Moon said he did. Shortly after that, he had to confront a guerilla protest by LGBTQ activists, while he was giving a speech at the National Assembly in Seoul. On a positive note, this was the first time the issue of LGBTQ rights was ever mentioned during a presidential campaign, and one of the five major candidates, Sim Sang-jung, actually openly supported LGBTQ rights.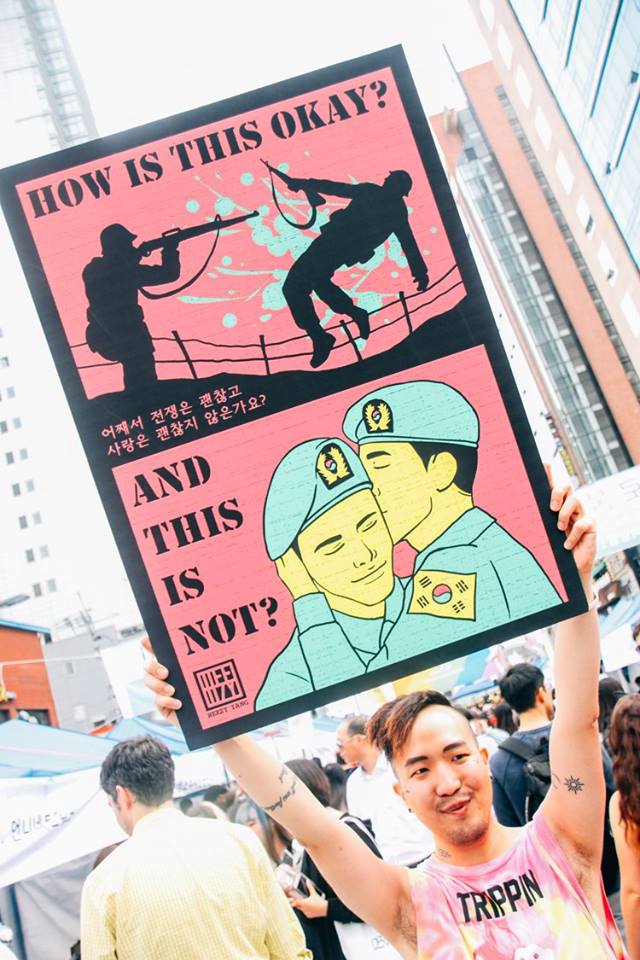 Also, this year, a conscripted Korean soldier (Koreans men need to serve compulsory military service) was sentenced to 2 years in jail for having a consensual sexual gay relationship with another soldier. Many other suspected queer soldiers are under investigation as well. Same-sex sexual relations are legal under civil law, however, according to Korea's current military laws, anal sex is illegal. This incident upset many LGBTQ and human rights activists, and there has been lots of protest since. Below is an illustration I created to speak out against the prejudiced and archaic military laws. I made posters and fliers containing with the image on them, and I have been giving them out at LGBTQ-related events.
I created various pieces of art, and several performances to protest against anti-LGBTQ people and promote equal rights. I made the illustration below in 2015, when the anti-LGBTQ Christians and the police plotted against the Korea Queer Culture Festival's organisers, to stop them from holding the event.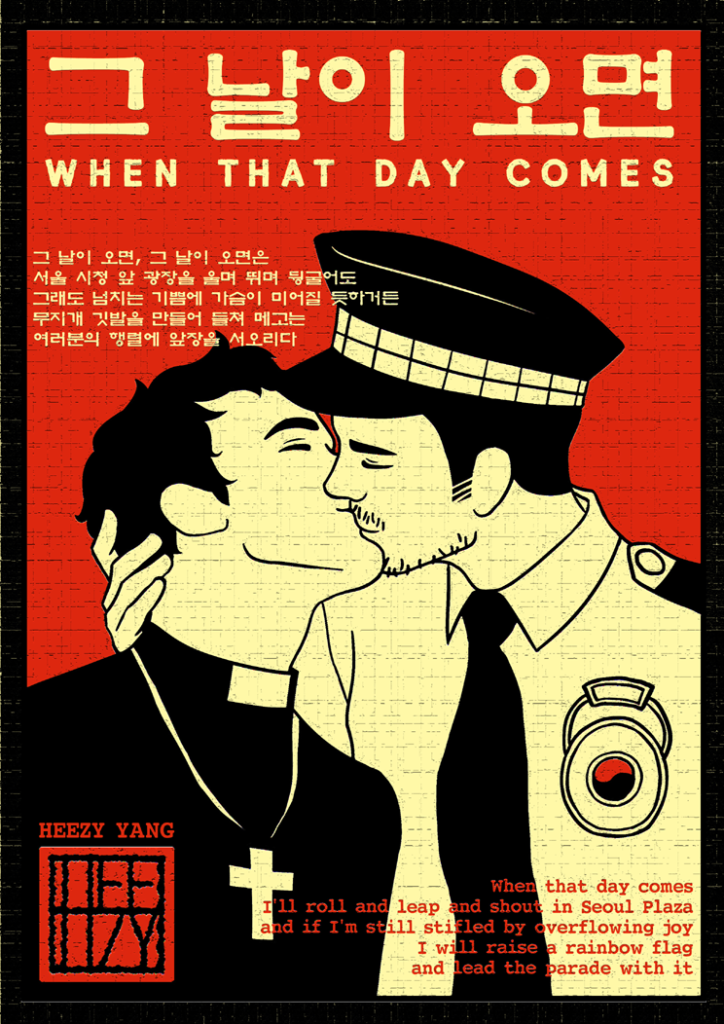 There are several performance pieces I have performed in public places in Seoul. 'Unjustifiable' was performed to bring awareness of homeless LGBTQ youth. My friends work for LGBT Youth Support Centre DDing Dong and I was inspired by their hard work and the stories of the homeless queer youth I heard. 'You May Now Kiss the Groom' was performed on the Seoul subway as well as in the streets in Seoul. Equal marriage is not legalised in Korea yet but I wanted to give people a chance to think about it in a non-aggressive and cute way. For both 'Unjustifiable' and 'You May Now Kiss the Groom', most people reacted surprisingly positively. Not only young people, but also older people wanted to take photos of my performances and gave me words of encouragement.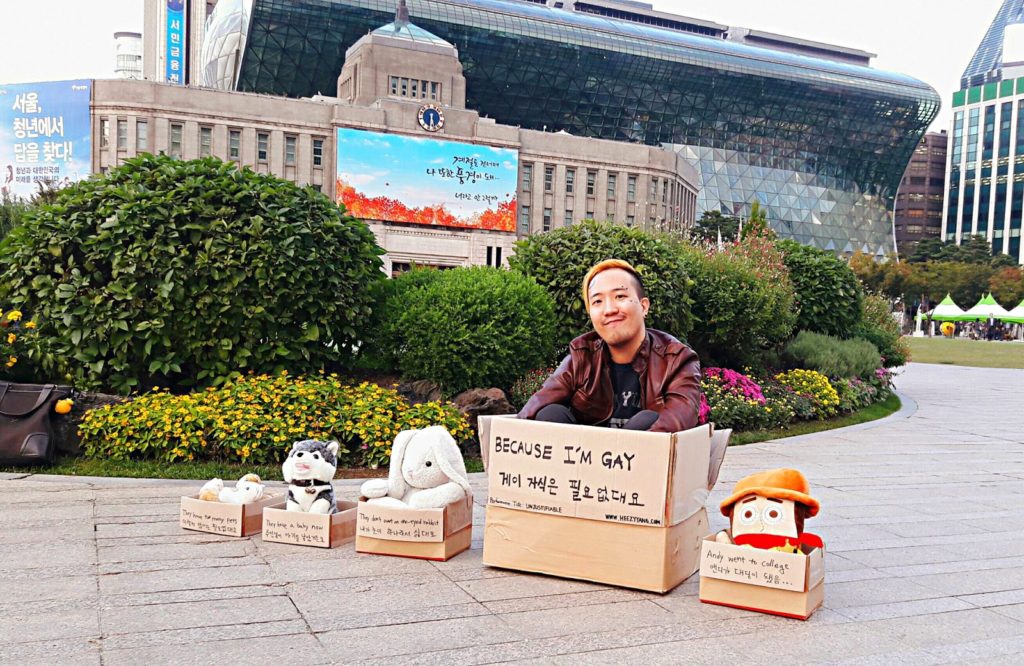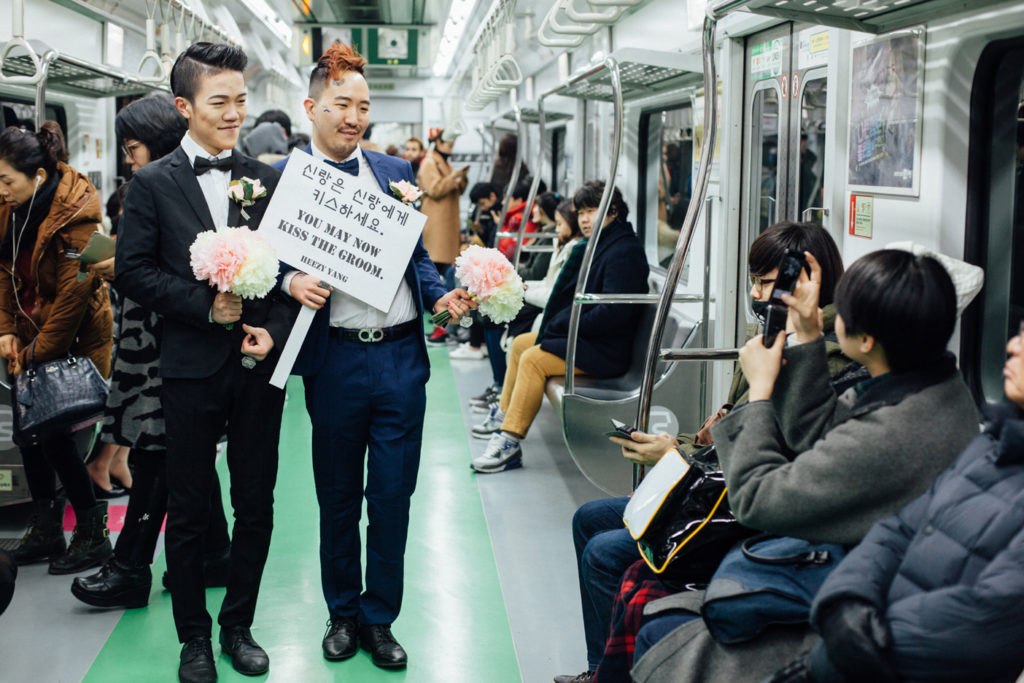 My illustrations and performances are only a small part of South Korea's LGBTQ activism. There are so many hard-working, devoted activists, and talented artists who are trying to reach out to those in need of help and spread love through their artwork. Thanks to them, and a little help from technology such as the internet, and social media, people in Korea are slowly but gradually being exposed to the once-hidden LGBTQ culture and being educated.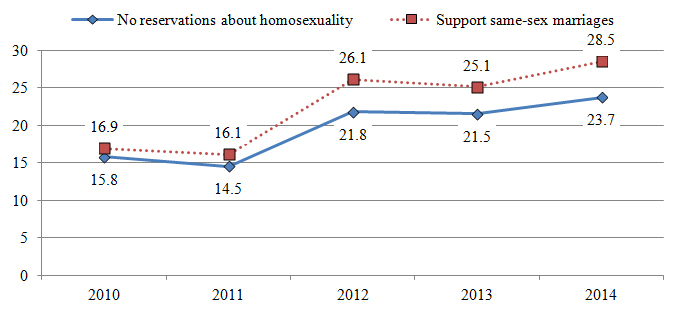 Even though Korea currently lacks laws and systems that protect LGBTQ people from discrimination, the younger generations, that will soon take control of the country, are more open-minded than most people would imagine. Therefore, I feel very hopeful and optimistic about the future of Korea's LGBTQ. People.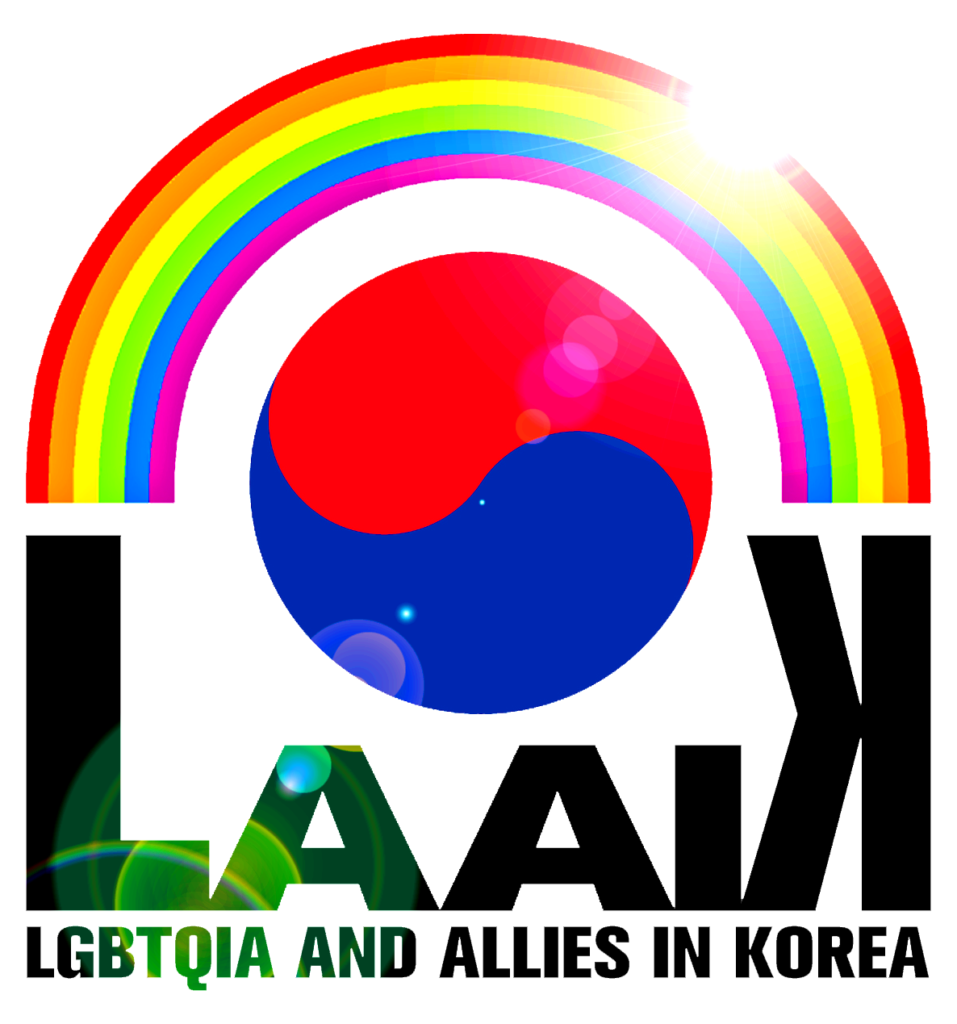 If you would like to learn more about South Korea's LGBTQ culture and make connections, visit the website of 'LGBTQIA And Allies In Korea and its Facebook group.
If you would like to take a closer look at my artwork and performances, visit my website: www.heezyyang.com