Some people hate twitter. Some people use it nearly every day. American President Donald Trump, who is inarguably an avid twitter user, uses this platform more than any other national leader in history. He uses it to announce government policy, share his views and argue with his critics. It is not by coincidence that he is referred to as the "twitter president". Just in 2017, 2564 tweets were sent from Trump's personal account, making it an average of over 7 tweets a day.
Trump's often confrontational rhetoric is on display in his twitter account, meaning all of the insults he writes on twitter – as it is generally the president, and not an aide, penning the tweets – are a matter of public record. The new York times has a list of all the different insults Trump has launched from twitter up to the 29 of September. But the list is long, and to help you navigate this sea of offence, I drafted a list of the five most notable insults that have been recorded on Trump's Twitter account in the first year of his presidency, ranked in no particular order.
Announcing the pardon of former Sheriff Joe Arpaio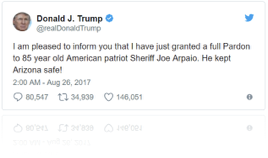 While his pardon of the notoriously racist former Sheriff from Maricopa County, Arizona, was meant as a defence of Arpaio rather than an insult, it was perceived as an insult by many. Janet Murguía, President of UnidosUS – the largest national Latino civil rights organization in the US – responded to Trump's statement by tweeting that the pardon "is an insult to our community" and linking to a UnidosUS press release which strongly condemned the president's decision.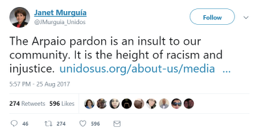 Announcing the ban on Transgenders in the military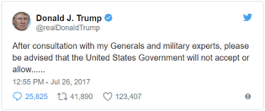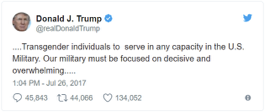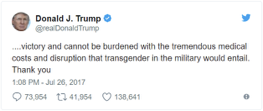 Trump's announcement on the fate of Transgender people wishing to serve in the military was spread out over three tweets, but was seen as one big, three part insult by most people in the transgender community, thousands of whom actively served in the US military when Trump tweeted his decision.
Kim Jong un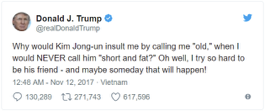 The US president and the dear leader of North Korea have never had a friendly relationship. While insulting the leader of one of the most despotic regimes in the world was probably not going to alienate any future voters, many questioned the wisdom of pushing the buttons of a clearly unstable nuclear power.
The "so-called" judge
Trump's attacks on the judiciary branch have generally followed rulings which went against his proposed measures. After U.S. District Judge James Robart in Seattle declared a nationwide stay on Mr. Trump's travel ban, the president lashed out in defence of his immigration order, which prohibits refugees or any citizens from seven predominantly Muslim countries from entering the U.S. The tweets were seen by many as an attempt to delegitimize Judge James Robart and the judicial branch in general.
Bleeding badly from a facelift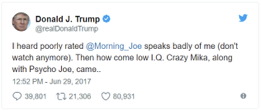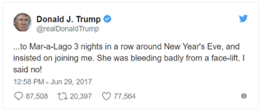 In June, Trump directed his perhaps most venomous tweet at the hosts of Morning Joe on MSNBC, and particularly host Mika Brzezinski, who he accused of bleeding badly from a facelift when she came to visit him at Trump's Mar-a-Lago resort. The attack was widely condemned by both members of the Republican and Democratic party, and was touted by various media outlets as a "new low" for the President.
So there you go. Our top 5 picks for the most insulting statements to come out of the President's twitter feed. What do you think? Are these insulting enough, or have you seen another one that you think should have made the list? Let us know, as I will undoubtedly be setting up a similar list next year.
A technophile, dedicated social liberal and travel enthusiast, Vicente currently works in London for a Tech PR agency. He was educated in the international school system before moving to Southampton University to study Politics and International Relations. He built his experience through internships with the likes of the UNHCR and a lobbying firm in London, and has now completed a Master's degree in Public Affairs and Lobbying at Brunel University.