Thirty years ago, hundreds of thousands of students and workers shed their blood in one of the most gruesome massacres in history. Hundreds of thousands of deaths – deaths that became a symbol of a beginning. The beginning of China's loud cry for democracy.
Communist Party leader Deng Xiaoping introduced China to a new economic era, an era that started to welcome the outside world to China. It could have been a promising liberalization of China, but political reform was not moving forward at the same pace as its economic advancement. China was still struggling with corruption, a repressed media and suppressed freedom of speech. There was still a huge gap between their social classes – poverty was still evidently present. Authoritarianism was still reining; democracy was still out of reach.
It was April of 1989 when students began demanding a democratic government through protesting at the Tiananmen Square. The students were later joined by workers and the general public. It was estimated that the number of protesters from different sectors of society grew to more than a million – capturing not only the attention of the Communist Party but also the international community.
Then June 4th happened – the darkest day of the six weeks and six days protest. It was the day Deng Xiaoping ordered soldiers to clear the Tiananmen Square – no matter what. Chinese soldiers and police stormed the Square in military vehicles and tanks. The troops mercilessly opened fire on the crowd and crushed them by tanks – wounding and killing a handful of unarmed civilians every second. Great confusion and disbelief arose as the crowd realized that their own army, the very same military force that was supposed to protect them are firing wildly at them. It was a very long night of screaming, gun shots and explosions.
A heavy amount of blood was spilled, thousands of young lives were brutally taken. The scene was inhumane and pure evil. It was reported through a secret diplomatic cable from then British ambassador to China, that 10,000 people were killed during the Chinese army crackdown. This figure is absurdly far from the "200 civilians and several dozen security personnel" deaths reported by the Chinese government.
China never stopped lying and even trying to hide all traces of this gruesome piece of history. Up to this day, the Tiananmen Massacre is one of China's most censored topic – banning and blocking all mentions of the event through its "Great Firewall". China is continuously denying the truth, slaughtering history and blinding its people especially its youth. This is one of the main reasons why I take it as a personal responsibility to speak about the Tiananmen Massacre.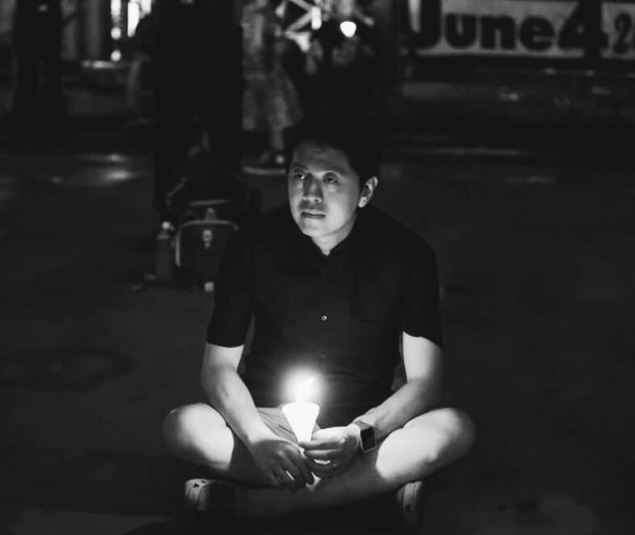 Personally, June 4th is my enlightenment. It is my very early political enlightenment – a call for my life long mission to always seek justice. Seeing how the massacre was distorted, denied and covered by lies reminds me of the importance of conscience to humanity – to our society and to the basis of our being. It takes courage to keep commemorating the massacre and requesting a solemn vindication, especially under a dictatorship and an increasingly authoritarian regime.
Knowing that Hong Kong is the only place in China that still has the freedom to talk about this piece of history makes me understand that it is a huge responsibility not only for the sake of Hong Kong but China as a whole. We have to deal with the past in order to face the future. If we cannot admit the wrong decisions we made in history, we will never move forward – democracy and genuine freedom will never come.
If we do not ask for the truth, the vindication, no one else ever will. If we do not continue to pass on the truth to our next generation, June 4th will forever be lost in history.
The blood that was shed for democracy on June 4th should never be forgotten because its vindication is the only key that would give chance to democracy. June 4th's vindication, if it will ever happen, is the opening of the gate to a possible democracy in China and Hong Kong.
Ted Hui Chi-fung is one of the youngest legislators in Hong Kong, representing the Democratic Party. He mainly focuses on environment, education and family-friendly policies. Ted highly believes in the power of the youth in influencing and creating positive change.