Over the last years, Turkish media has been repressed and manipulated by the government. A number of events have made this clear:
In 2013, when the Gezi Park protests took place. The only tool the opposition could use to get information from the Gezi movement was social media. Official reporting on the protests was repressed by the government.
In 2014, when the strategic relationship between the Gülen (Hizmet) Movement and Erdogan's AKP came to an end, a huge corruption scandal emerged. Lots of tapes of phone conversations were leaked to the internet. Of course, there was an immediate broadcast ban on the news about the corruption, but the tapes were still accessible via the internet. Amongst many other things, we found out through the tapes that President Erdogan (he was the prime minister at that time) had been giving orders to Fatih Saraç, an exective at Habertürk TV, owned by Ciner Media Group. Fatih Saraç, did everything he was told. He manipulated the election polls which were on Habertürk TV for Erdogan. He didn't allow Devlet Bahçeli's (Leader of the Nationalist Movement Party) statements to be broadcasted on television. You can still just type in "Fatih Saraç" on YouTube and listen to the tapes. The tapes were meant to be removed, but like all governments, the Turkish government also lost this fight against the internet.
There was another scandal in 2014, this time about MIT (the National Intelligence Organization). It was a power struggle between the Gülen Movement's officers in the government, and Erdogan's. There were trucks that were carrying "stuff" (some say supplies for the civilians in Syria, some say weapons for The Islamic State) to Syria from Turkey. Journalists Can Dündar and Erdem Gül were arrested for publishing news about the Turkish trucks. When the supreme court of Turkey recently decided that they should be charged without being arrested, Erdogan clearly stated that he will be "silent" about it, but he will also "not respect" the decision. Seems like the government didn't do a good job taking over every aspect of jurisdiction, at least not yet.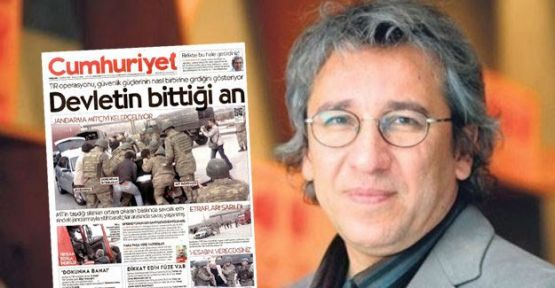 The latest event occurred just over two weeks ago on the 4th of March. Trustees were appointed to Zaman Media Group and Cihan News Agency, which were owned by the Gülen Movement. The government was already at war with the Gülen Movement, there was even a bank, Bank Asya, that had a trustee appointed to it by the government.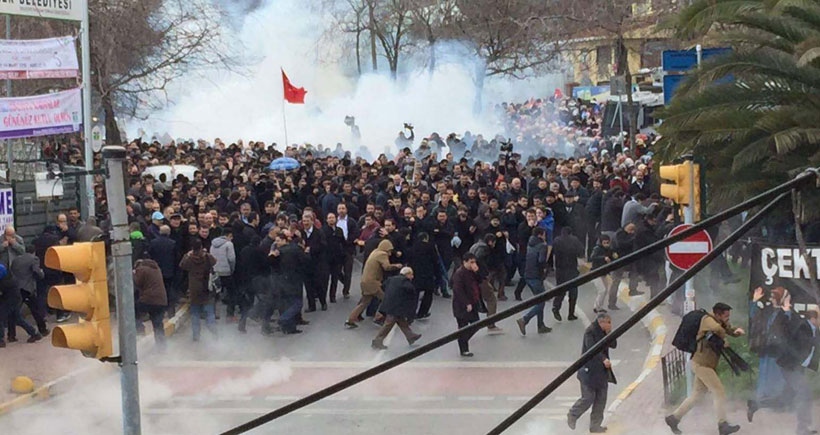 All these events show just how complicated and difficult the situation is in Turkey. You have Erdogan and his AKP party, the Gülen Movement, and various opposition groups (of which the liberal opposition is one). Of these, only a few respect the right of journalists to report freely, and the right of the Turkish population to receive objective information. Here are some more examples to understand how hard it is to be a journalist in Turkey. I couldn't find any source belonging to Today's Zaman, as it is controlled by the government now, the contents are deleted.
CPJ calls for Turkey to release Syrian journalist Rami Jarrah
Two Kurdish journalists jailed in southeast Turkey
Reporters without borders freedom index 2014
The case of Zaman is a good example, because they were just as involved in suppressing reporting about the Gezi Park protests as the government. But now that the Gülen Movement and the government have started to fight it is this newspaper itself that is taken over by the government. Because of Zaman's history, it is hard for anyone who stands for freedom to support any of them. But clearly, when the government takes over the opposition media this easily and without decent evidence of that "they are terrorists", it should be criticized.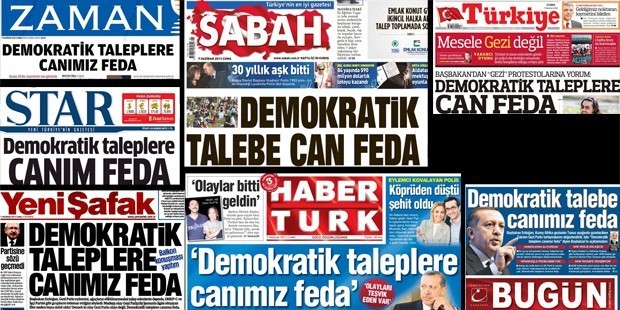 Nowadays, from personal experience, I have become very aware that we need the opposition-mainstream media to be free. There are operations going on in the south-eastern part of Turkey against the PKK, a terrorist organization; and all we can hear about these operations are lies told us by the government and PKK. As Turkish citizens who understand how manipulative PKK media and the government media can be, we simply don't have decent sources to know what is going on in our own country. A man gets killed during these operations, and we never have the chance to know if he is a guy who was shooting at the police, a member of a terrorist organization that was involved in recent bombings that killed many civilians in Turkey, or just an innocent civilian. This lack of objective information helps the government and the terrorist organizations in Turkey to commit crimes easier.
People tend to see social media as a great alternative these days, but I don't really think so. I believe social media can be even worse sometimes. It is a place where if you have many followers, friends etc. you can say anything you want, and what you say may become "the truth." Some people in social media do it on purpose to reach their goals, and some are just too naive, believing and sharing everything they see.
As I am writing this article, I heard there was another suicide bomber attack in the city I live in, Istanbul. I desperately want to be informed about it, but the only thing I have at my hands are pro government channels who are probably claiming that the suicide bomber has a relation with "Gülen movement, Bashar Assad, Israel, PKK, Islamic State and Russia", all at the same time; social media with lots of unverifiable news; and an opposition media silenced or controlled with threats of tax penalties.
In order to guarantee the personal safety of the writer, this article is published anonymously.