Last weekend, I attended the California Democratic Convention; the annual gathering of activists, elected officials, and elected party officers and delegates, this year held in San Francisco. Among other things slated to happen was an election to replace the Party Chair ousted over allegations of sexual misconduct, countless resolutions covering everything from healthcare to international affairs, and speeches from nearly the entire field of Presidential candidates seeking the Democratic nomination.
While the convention for me started later than I planned – my flight was delayed from Los Angeles due to the problems with Boeing's 737 Max – from the second I stepped into my hotel in San Francisco's Financial District early Friday evening, not far from the Moscone Convention Center where the bulk of the events of the weekend were taking place, things felt different from previous conventions. Maybe it was all of my friends posting pictures on Facebook with their favorite Presidential Candidate, or knowing that nationwide media were covering the events of the weekend, but it felt like what was going to happen that weekend was tremendously important, not just for our statewide or national party, but also the country and world.
After I quickly changed my clothes into something a bit more formal, I headed out to the first of countless events that I put into my calendar, a shabbat dinner co-hosted by the Legislative Jewish Caucus and the former Speaker of the Assembly, John Perez. While davening and enjoying a catered shabbat dinner, I felt incredibly privileged to be able to spend time with – among others – Jewish state legislators, members of the Democratic National Committee, locally elected officials, and activists who successfully defeated multiple anti-zionist resolutions in committee earlier that day. While the Jewish community represents just over 3% of the state's population, Jews represent 10% of the elected members of the California Legislature, serving as a reminder of our community's dedication to not just the Democratic Party, but to countless progressive causes and groups that make up the coalition that is the Democratic Party. To me, this means that while it is a privilege to be part of such a politically engaged community, it is also a tremendous responsibility, especially while Trump is President.
Once the Shabbat dinner ended, I joined what seemed like every political friend I have in the state, at a party hosted by Equality California and LGBTQ State Senator Scott Wiener. While I do not myself identify as part of the LGBTQ community, I have multiple friends who do, and it is so important that we stand with them while we have a President who has no interest in allowing them to openly be themselves. As it relates to the race for President in 2020, I think that California Democrats surely are looking for someone who will unapologetically stand with the LGBTQ community. After that, my friend and I stopped by one or two parties at the Convention Center before calling it a night.
Saturday promised to be jam packed, with countless events taking place throughout the Convention Center and sites throughout San Francisco. After starting the day hopping from an early morning coffee event with a candidate for Assembly and then stopping by a hotel breakfast event hosted by the African American Voter Registration, Education, and Participation (AAVREP), an organization started by my County Supervisor, Mark Ridley Thomas, we headed to the Convention Center. Greeted by anti-circumcision protests, we proceeded to enter the convention center with a few friends to prepare for the joint meeting of the California Young Democrats Jewish and Labor Caucuses, the former of which I chaired and was seeking re-election to.
Uneventfully, myself and my entire slate of progressive Zionist Jews won, and we spent the rest of the meeting hearing from several elected officials, office seekers, and party activists. Being a pro-Israel Jew involved in progressive spaces has become increasingly difficult given the current government of Israel's almost non-existent commitment to peace and progress for a two-state solution, but that doesn't mean that we should shy away from talking about it, in addition to focusing on the rise of white nationalism in America and other domestic issues such as housing, healthcare, and strengthening the labor movement.
The rest of the day was filled with exhilarating Presidential candidate speeches, running into Presidential candidates in the hallways of the Convention Center, and more meet and greets with elected officials (such as the Lieutenant Governor who was handing out San Francisco Sourdough bread during the lunch hour). After listening for a while to candidate speeches though, I did leave the Convention Center, at which point a rally for Sex workers rights was taking place outside, and spent some time resting and walking around the city while the voting for Chair of the California Democratic Party was taking place, since at this time I am not a voting member of the Democratic State Central Committee (DSCC).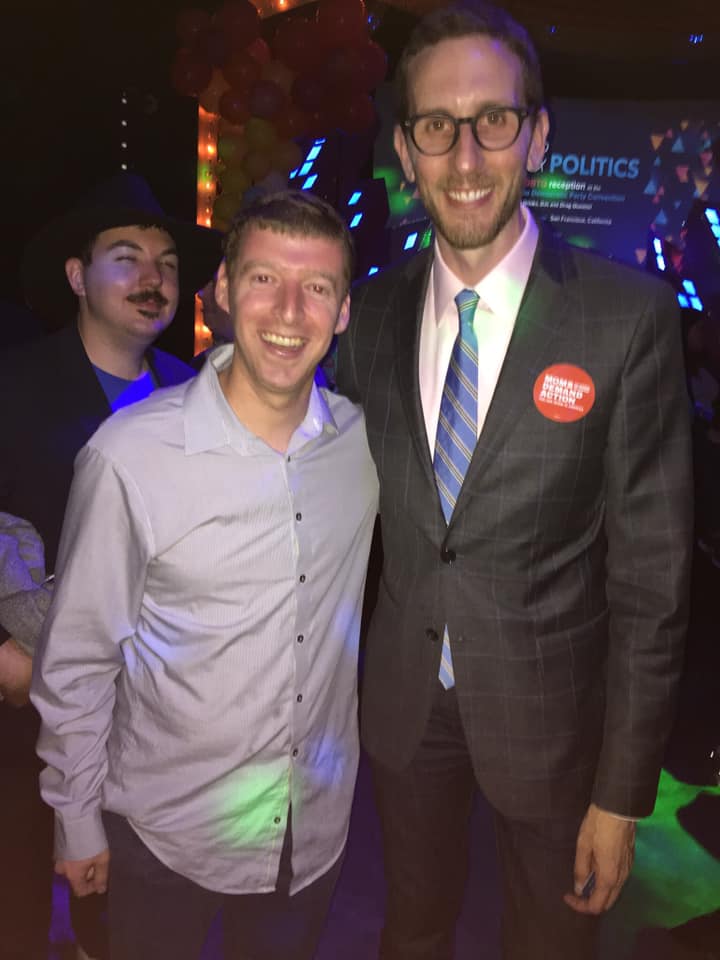 On our way back to the Convention Center for the General Session of the California Young Democrats, my friend and I ran into Senator Elizabeth Warren just walking on the street. Since everybody else was getting pictures, we of course asked her for one, after thanking her for fighting for working families. The California Young Democrats General Session would have been completely uneventful since there was no competitive election for the board, but, at the last minute, Senator Bernie Sanders surprised the group with a speech. Now I'm still undecided on who I will support for President, but seeing how he just completely captured that room of young democratic activists made me realize that, to many millennials, he is their champion. After that event ended, a couple of my friends hit up a few other meet and greets and parties going on including one hosted by a rumored candidate for Los Angeles Mayor in a few years. It was after that event that we heard the news that Rusty Hicks, the current President of the Los Angeles Labor Federation, won election as Chair of the California Democratic Party, defeating his opponent, Bay Area activist and the former Executive Director of Emerge California, the state's premier training program for women seeking political office.
While there was some interesting events on Sunday, including more speeches from candidates, I had booked a mid-day flight back to Los Angeles and therefore more or less slept in a bit, grabbed a free breakfast (courtesy of the Rusty Hicks campaign that was expecting a runoff election early morning on Sunday), grabbed a few extra political signs at the convention center and took off to the airport. What a busy 48 hours!
Joshua Baum lives in Los Angeles, CA where he works as a housing and economic development researcher. His current leadership roles include being Chair of the California Young Democrats Jewish Caucus and Founding President of the Westside Young Democrats.