Capacity building, inspiration, and a feeling of being heard and understood: Throughout the last year, YWCA of Zambia and Danish Liberal Youth (DLY) have established a partnership with funding from the Danish Youth Council, and though much of the story is yet to be written, a lot has already been learned. But what can be gained working young-to-young? And what impact do cultural differences have? During our recently held "pilot project", a youth seminar gathering young volunteers from all over the country, I asked those questions to a few of the Zambian volunteers.
While fireworks mark the Chinese New Year in the background, Melody, Memory, Nicholas, Tendai and I have gathered to talk about our partnership. About what has been achieved working young-to-young, about what can be gained from doing so, and whether it all matters in a Zambian context with more than 57% of the population living in extreme poverty (1,90 dollars a day, UN 2015). It is the fourth and final day of our pilot project; a youth seminar with 40 people from all over the country gathered to jointly learn and acquire skills that can be used in their home communities, and while we speak, several different points come up.
Memory (24), having mainly worked within her home province, emphasizes the insignificance of cultural barriers that she originally expected: "Coming from another land, we expected some barriers, but meeting you guys, we do not feel like there are any barriers. We get to talk and to understand each other" she explains. "We have learned that we can easily adapt to someone elses' culture without feeling intimidated or shun out": and though the scope of the challenges might differ, a lot of them remain the same across continents: Hence, Memory – though living far from Denmark – is a trained mental worker; something that is also highly relevant in a Danish context where one of the main challenges faced by young people is a high stress level.
Melody (26) and Tendai (26) both agree. Having been part of the partnership from the very beginning one year earlier, both of the girls have experienced the progress first hand. Thus, while the actual project development is one thing, the mere partnership and personal ability to learn from one another across culture and distance has had a clear impact on the young women.
Hence, Melody explains: "If there is one thing that I can see through you, it is the passion to do community work. And I feel like, ok, if there are people out there who think about us in such a kind of way, where they are willing to come all the way from Denmark to really come and engage; we should engage, we should learn from that (…) Be it whatever project that is going to come, I feel like my community still has a gap in so many ways, and hence I believe that we can make a big difference."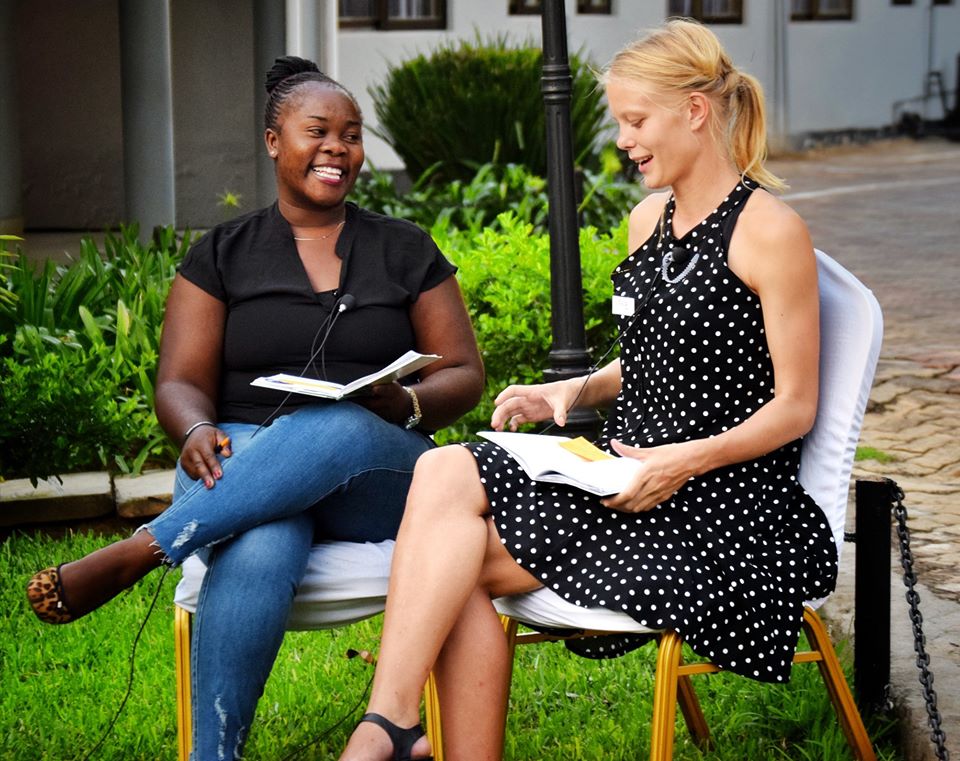 Tendai, adding to the meeting between the two organizations; "This is our people. I think it is different than if we had adults coming all the way from that side. It creates an environment in which youth cannot really come out." And hence, though our tiny project will not be able to solve all the Zambian challenges, change has to come from within; and merely showing that work across cultures is, indeed, possible and that someone in a country far away cares – might in itself be the first step towards accomplishing something. "Having young people come makes me sit and think "They are still young, she is only 21, she is only 24." It makes me think that I can also make a difference," Tendai explains.
Aside from volunteering, the young people all have a professional degree, and whereas Memory is a trained mental helper, Melody is a high school teacher, and Tendai has a degree in physiotherapy; skills that they could have used to increase the amount of zeros on their own bank accounts but that they all agree are better spent trying to make a difference in a community where this is so deeply needed, and hence, when I ask Melody, her answer comes quick:
"I do teach at a high school, so I do teach for money, but that is not what I aim for when it comes to education. Anyone should have the right to education. Regardless of whether it is being paid for or if it is not being paid for. And I feel like where it is needed, I should be able to provide it, cause I have the capacity and the ability to do so."
And hence, while Melody herself also does make a living from teaching, her belief in education being a human right goes much beyond the mere paycheck. Thus, she has started her own mentoring program through which she offers young people to gain some of the academic skills their own parents have not been able to give them. All they have to do is to show up at the local cathedral once a week. The program has up to thirty young people drop by every week.
While the focus points of the pilot project have been capacity building and strengthening of relational ties, a key concern has also been to ensure that the future steps of the partnership are taken as a joint team rather than a Danish organization believing that we know the answers to the Zambian issues; and hence all that has happened till now has been jointly decided upon, "A lot of people come all way from that side with a lot of money, and then they impose a project on people that they don't need. And then you find that in the long run, it is not sustained; Once they are gone, it cannot be sustained, because they did not go yo the people to actually ask what they needed", Tendai explains, appreciating that the project at hand has been different.
In the background, the Chinese New Year fireworks have calmed down and are now replaced by African music marking the celebration of a pilot project that went beyond all our expectations.
A lot has been discussed: And while I join the outside celebrations full of energy and excitement about what we are indeed capable of doing as young people, the main conclusion of our conversation is summarized my Memory: "Having worked with you guys, I realise that in the end I have learned more from what we share than what separates us. More from our similarities than our differences."