Usually, Shrinking Civic Spaces seem like the perfect seminar topic to discuss on the ground — to visit said spaces and meet people in person. IFLRY was all set to do that, but then Covid-19 hit. The pandemic forced the facilitators to adapt and transform the training into IFLRY's first all-online seminar. Keep reading to find out why the topic of the seminar is so important and what it was like to learn about it using only online means.
The overall aim of the Your (Civic) Space seminar was to look at the recent rollbacks in the public provision of civic spaces globally and to identify how young people can counter such tendencies. Facilitators and participants looked at the specific roles of young politicians and civil society activists in the defence of civic spaces and how the capacity of young people can be bolstered to actively partake in the defence and expansion of civic spaces on the ground.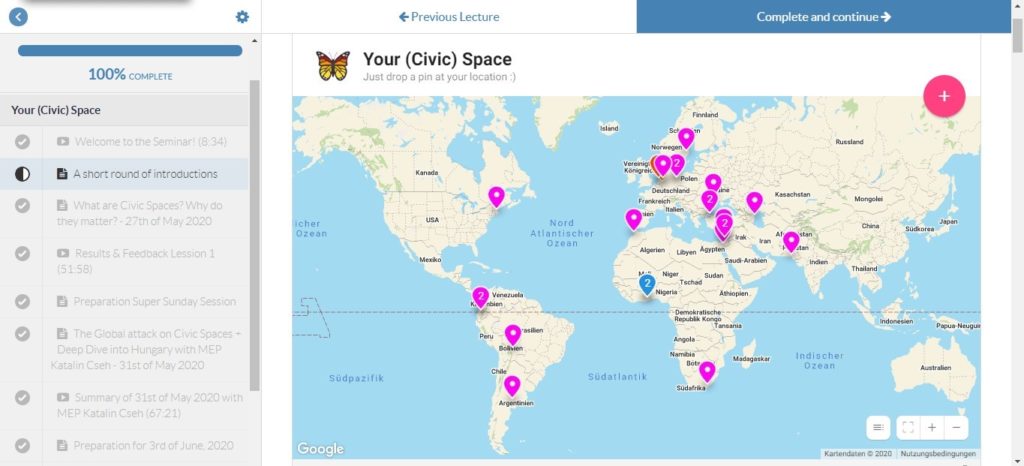 We asked two of the participants to share their learning outcomes and takeaways from the seminar, here is how Ghena Ayach from Lebanon explains civic space:
"Civic space is the environment that enables citizens to meet, share their interests and concerns, and work individually and collectively to bring about change in their society. Knowing that it is the core of democracy, and despite all the achievements of the ongoing global human rights struggle, we seem to have a long way to go in helping to promote human rights efficiently. The truth is that even in some countries that adopt a democratic system and whose constitution recognizes public and individual freedoms, civil society witnesses a shrinking in the civic space."
To illustrate this with some concrete examples, she applied the new knowledge to her own region, where civic spaces have been under attack for years:
"If we take […] the Arab region — one of the most difficult regions in the world to defend, protect and promote human rights — we find that there are countries such as Syria, Yemen, and Saudi Arabia, where civic space is not legally accepted. In Saudi Arabia, although women finally got the right to drive, women activists are still being arrested, and women still need permission from their [legal] guardians to do anything such as marrying or requesting a passport. In Syria, where the civil war is still going on, there is no civic space at all. Since day one, the government has aimed to arrest and suppress activists and demonstrators and all human rights defenders, in addition to illegally detaining them, brutally torturing them and practicing all imaginable inhumane treatments in prison. On the other hand, in countries that claim to have a "little" space for freedom, governments exercise the most severe repression to limit civil society activity. In countries where there is a window for civic space, such as in Lebanon, civic space is experiencing a serious deterioration and the freedom of expression is becoming an increasingly contested field."
Teddy Lange from Germany breaks these observations down into three essential points that make clear, why civic spaces have such a key role for free societies and should concern everyone:
"1) Access to civic space is a fundamental factor to ensure functioning democracies.
2) Civic space is crucial to initiate a change of mind/values in society, e.g. LGBT+ and BLM.
3) No matter the cultural background, the concept and understanding of civic spaces seems to be universal."
To fight back and defend our civic spaces, we have a variety of options:
Ghena: "First, there's a need to create an environment conducive to this, encourage citizens to express their views on the basis that this is a natural right, recognized by international treaties and agreements. Second, it is necessary to create a social understanding of civic space and differentiate it from hate speech, support civil society organizations morally and financially to expand their activities, and secure international protection for activists and human rights defenders. Finally, a series of legal reforms must be implemented in many countries."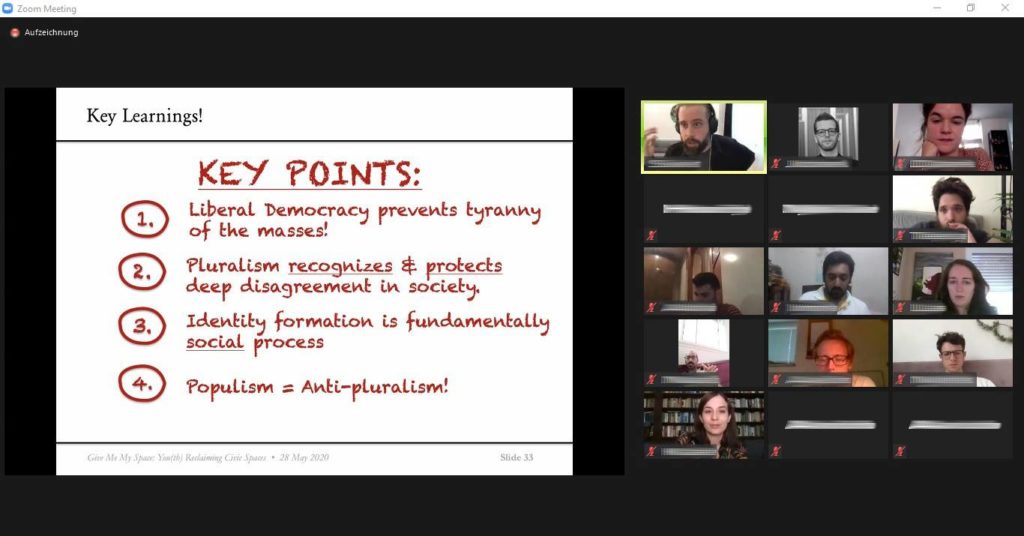 This is just a small insight into a wide-reaching, complex topic. If you got curious and want to know more, you can watch the recordings of the seminar sessions here.
If you still aren't convinced, that transforming such a seminar into an all-online experience can work, read how Teddy evaluates it:
"[…]The theory was presented by experts in the field that could truly answer the participants' questions, no matter if superficial or going truly into depth. And, the practical learning part was a mixture of learning from the other participants and practitioners in the field. The former taught me a lot about cross-cultural group work. […]
Second, they made sure that everybody — no matter their background and knowledge of the topic — could get up to pace easily. They utilized online tools that allowed participants to review past sessions and prepare upcoming sessions efficiently.
Third, it was a truly international and interactive experience. Although I was looking forward to meeting in person, […] I must applaud the trainers for delivering a truly international experience: I could easily connect with like-minded liberals from across the globe who challenged my understanding of civic spaces."
Johannes Mieth is Project Coordinator at the IFLRY office in Berlin, Germany. He is born in Hamburg, Germany and studies in the field of Religion and Politics. He wrote this article in cooperation with Ghena Ayach from Beirut, Lebanon and Teddy Lange, who is currently based in the USA. Both were participants of the Your (Civic) Space online seminar.