Fares and Hamada, two little boys that have so much in common. They share the innocence of every child. They just want to play on a playground with their friends, go to school, learn new things, explore  and be happy. The two of them also shared the misery of losing their home and maybe family members, shared the fear, and shared living in a war zone. Just because they are Syrian.
In 2011, in the city of Daraa in southwestern Syria, protesters went to the street demanding freedom and a better living. That is how this all started. What resulted was a huge war, ISIS, the Assad regime and others militias took over Syria, leaving no space for peace – taking with them 100 000's of lives and mostly kids. People had no choice but to stay and die, or to flee. But where to? There were four options: move to another part of  the country, or go to Lebanon, Jordan or Turkey. As of February 2016, the United Nations has identified 13.5 million Syrians requiring humanitarian assistance, of which 6.6 million are internally displaced within Syria, and over 4.8 million are refugees outside of Syria. People fled searching for safety, searching for hope, searching for a place to raise their children far away from the ghost of death.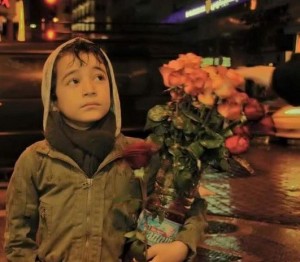 Fares, and Hamada fled with their families each to a different destination, they don't really know each other, they never met but they share almost the same story. Fares, an eight-year-old boy from El Hasakah, moved to Lebanon with his elder brother to find a better life. He came with a big smile hiding the sadness that he kept inside of him, even though you can see it through his little eyes. Fares started to sell flowers so he can support himself and put food in his little belly, he used to walk in the nights to and from bars and café's, holding this big bouquet of red roses, almost bigger than him, with his smile, that no one could resist. You would definitely buy from him. Fares faced a lot, poverty, racism, and the change from being a normal kid, to a refugee with no rights, because he had come before the war and had to stay. People used to ask him: Who do you support in Syria? The answer was always I support Syria only.
The little sweet boy that used to sell us flowers in the street went back to his homeland hoping that he would build something: go back to school, get away from the brutal streets of Beirut to Live with his family in Syria challenging the war, turning his back on the bad circumstances that he was living in… His dream was so short. Fares died in an air strike on El Hasakah, taking his beautiful smile with him, taking everything beautiful with him. I kept my memory of this little friend. Everyone who knew him did. Fares the flower boy became a symbol for courage.
Syrians fleeing conflict continue to make up the majority of refugees in Lebanon. According to current projections, there will be over 1.5 million registered Syrian refugees in Lebanon at the start of 2016. It is estimated that there are tens of thousands of stateless people in Lebanon. Syrian refugees born in Lebanon are particularly at risk. A 2014 survey of 5,779 Syrian newborns found that 72 per cent do not possess an official birth certificate, raising concerns over the recognition of their nationality by the Syrian authorities. The Lebanese government refused to recognize the migrating Syrians as refugees. The situation has created a huge challenge for the Lebanese government, which is not able to control the influx of the Syrians into its territory.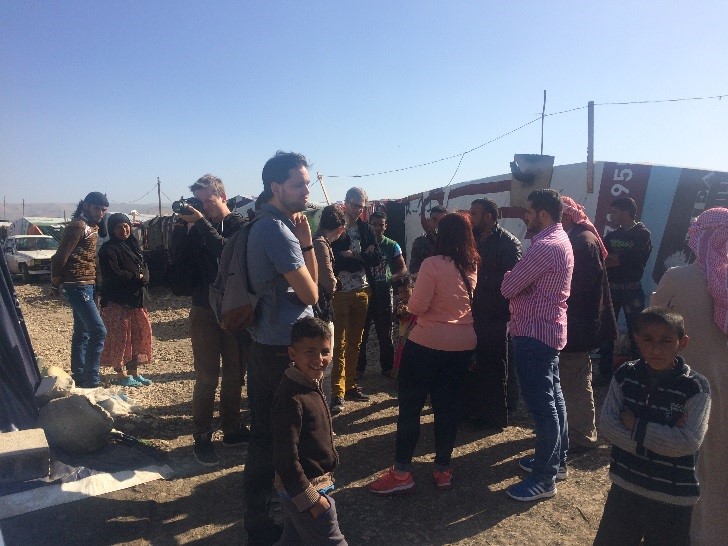 The refugees are dispersed throughout the Lebanese territory stretching from the North to the South, but the biggest camps are in Bekaa. I visited the place almost one month ago, together with a group of Dutch activists . After a long trip to west Bekaa, we arrived to see the misery that the refugees live in: small metal rooms, hundreds of them, with at least two families living in each. No clean water, no proper hygiene, no heating system. They survive the cold by burning paper, plastic, wood – anything they can get their hands on.
Everyone gathered around us to tell us their stories. "I don't have a UN card," a young man told us, "they refuse to give it to me." One family member of each refugee family has a COOP card, that can be used to take food and goods for free from a certain supermarkets, but they don't give it to men between certain ages because they should work and support themselves. But the young man we spoke to said: "I can't work here, I have no papers." He continued: "I prefer to go die in my country over being discriminated elsewhere".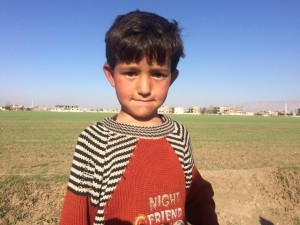 We continued our tour between these metal rooms to find group of little young boys playing. We asked about the schooling system, refugees go to the afternoon school, means after the Lebanese kids finish their studies, but most of the parents don't let their kids to go, they are afraid to let them out of their sight, they will get bullied because they are refugees, a man said. A little boy with a broken bike standing all alone looking at us: Hamada. he was extremely shy and barely said anything, but it's enough to see his innocence through his eyes, he reminded me of Fares the flower boy. Are you happy Hamada? He nods, where are going with this bike? The answer was: "Home, Syria".
The refugees had no choice, they were forced to leave their country, searching for hope. But when they experience the racism and the discrimination in others countries – neighbouring or far, Arab or European – they prefer to put their lives back in danger in their own countries. Because of this Hamada too could become a memory, a piece of graffiti on a wall… Just like Fares.
Ahmad Al Rachwani is a Lebanese engineer/ liberal political activist, focussing on Human Rights and Women's Rights. He was elected in 2014 as the Vice President of IFLRY, is liaison officer for the gender Equality program, and is mainly concerned with the MENA region. In 2015 Ahmad started his own NGO OPES to promote good governance and transparency in Oil & Gas sector in Lebanon.