From the 7 to the 10th July 2016 the IFLRY Belarus and Ukraine Programme organized a seminar "Youth in the Heart of Decision Making". I was one of the participants of this great event and here I want to share my impressions about it.
The seminar brought together more than 20 participants from Ukraine, many of them were from the eastern regions of our country. Distinguished guests were invited to participate as speakers – representatives of liberal parties and young activists from Canada, Germany, Sweden, Ukraine.
The conference took place in a picturesque place west of Kyiv – the Babushkin Sad resort.
The participants lived in comfortable timbered huts, surrounded by softwood forest trees that cleared the air and created the perfect atmosphere for the brainwork and rest.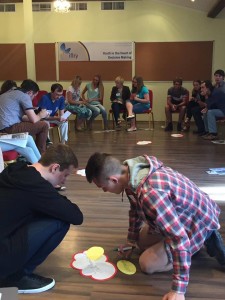 During the conference, participants were able to share with each other their experience, knowledge, and ideas about youth activism in Ukraine. They took an active part in the discussions, disputed a number of political issues, worked out draft decisions of various problems. The guests from abroad told about their experience of youth activism in their countries and shared their impression of Ukraine and its movement towards European liberal values. They stated that Ukraine has made a significant progress for the last two years after the Revolution of Dignity, but there is much work yet to be done, and young political leaders are particularly responsible for this process. Speaker from Canada, Danylo Korbabicz, who has been in Ukraine many times before and had a chance to observe the local political situation, noticed, that Ukrainians tend to complain a lot, but it doesn't improve the situation, that's why it is very important, especially for young leaders, to stop babbling and start doing something.
Informal communication was an essential part of the seminar. The most exciting moments happened during the Cultural Evening where the participants had to tell about their countries of origin and to present some souvenirs. And they did it with much creativity and delight. I found out many interesting things about Germany, Sweden and Canada, and what is more, I had a chance to taste a number of fine goodies made there. In return, Ukrainians narrated about their motherland and presented some exclusive local beverages.
Another good thing that I noticed on this seminar, is that participants were really eager to not only have some conversations during the event but to materialize them into effective actions which may lead to noticeable results that really make the difference afterwards. In my opinion, it's very important that such events lead to some concrete steps. And right after the seminar, the participants proved this, starting to realise their projects, first of all, they send requests to the local authorities with a demand to provide information on spending budget costs on some of the controversial affairs.
To sum up, the seminar "Youth in the Heart of Decision Making" demonstrated a strong enthusiasm of Ukrainian young activists to make an impact on society and to change the country. I personally got a lot of positive experience, met new interesting people and deepened my knowledge in many spheres of political activism. And I strongly believe that such events are very important and useful, as they help young people to stay in contact with each other, to better understand the problems of the different regions of the country, discuss the main political challenges, elaborate the long-term strategy and, what is the most important, to plan and conduct small concrete steps which one day will lead to a big goal: the establishment of a developed civil society in Ukraine.
Andriy Miheev is spokesman for Ukrainian liberal NGO European Youth of Ukraine. He studied History at Kyiv National Taras Shevchenko University and just completed his master's degree.