GUMMERSBACH, GERMANY — From 15 to 21 September 2017, liberal youth leaders from across the globe gathered at the Theodor Heuss Academy of the Friedrich NaumannFoundation for the International Federation of Liberal Youth or IFLRY's second series of the Training of Trainers (TOT). Participants came from a wide range of countries. They were from Armenia, Belarus, Bulgaria, Finland, Germany, Ghana, Lebanon, Russia, Sweden, The Netherlands, The Philippines, Turkey, United Kingdom, and Ukraine.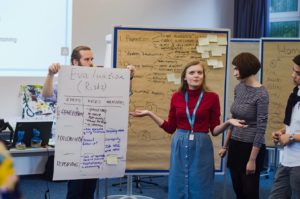 As a regional member organization, CALD Youth, the youth wing of the Council of Asian Liberals and Democrats, had the privilege to represent the Asian region and be part of this training. Spearheaded by IFLRY's Pool of Trainers (POT) — a collective of young liberal trainers possessing diverse skills and expertise on different areas grounded in the principle of — the participants underwent an in-depth and comprehensive training experience as trainers of their respective organizations themselves.
IFLRY's trainers designed the seminar in an inclusive and smart manner. The week started with numerous activities focusing on establishing the foundation of the group through self-introductions and setting of goals and objectives that were reasonably logical and more importantly, doable. Remarkably, they found it essential and fitting to tackle the fundamental training concepts and their definitions, as some of these needed clarification and perhaps a common ground on understanding them. For instance, the term Non-Formal Education (NFE) is something that we do not encounter every day. Basically, it is a methodology that translates structured practices fostering personal, social, and professional development of people in a conscious manner.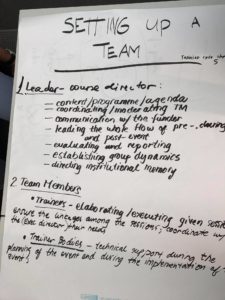 Discussing NFE was critical as it perfectly embodies this particular training. Learning activities within NFEs are made to address young people's needs and interests on a voluntary and learner-centered basis. IFLRY's trainers religiously followed the principle of NFE and used diverse methods based on creating healthy environments of trust and sharing of experiences. The sessions would include presentation, marketing, intercultural learning skills, understanding yourself as a trainer, identifying learning styles, parts of a training cycle, finance, and logistics. This type of education provides additional value not only for young people, but for the economy and society, in terms of capacity-building of systems and institutions.
Towards the end of the training, there were simulation exercises on actual NFE sessions, which showed that participants had improved considerably during the course. At the end of the week, both trainers and participants exchanged feedbacks, reflected on best practice, and discussed room for improvements that would benefit not only the federation but its member organizations at large. Trainings like this would reinforce the federation's network, and create opportunities for its expansion. Similarly, it will increase its legitimacy and competitiveness more than what it can offer to its partners. Hence, it will produce a wider web of a learning system through NFEs that are recurrent and lifelong.
"It has been a great week, I am proud and happy to have productively spent it with our current and potential Pool of Trainers members, to help them develop as trainers and get them more involved in IFLRY," POT Manager Tanya Lyubimova said. "But ToT2.0 is only the beginning of the exciting journey through Non-Formal Education that I hope we will take with this group of amazing enthusiastic talented young liberals from all over the world," she added.
Francis Miguel Panday serves as the Project Officer of the Council of Asian Liberals and Democrats (CALD) Secretariat. He manages the CALD Climate Change, Youth, and Election Mission programmes. Previously, he served as a Team Member of the IFLRY Climate Change Programme, and now in direct contact with the Federation in all of its programmes with CALD Youth. He earned his Bachelor's Degree in Political Science at the University of Santo Tomas, Manila, and now taking up his Masters in International Studies at the De La Salle University Manila. You can find him on Twitter @francismiguelfp and contact him via email: francis_panday@cald.org