Originally posted on D66 Internationaal
Hussam Erhayel co-organized the 43rd congress of the International Federation of Liberal Youth (IFLRY) that took place between 1 and 4 March in Accra, Ghana. In his country of Jordan, he is a Project Coordinator of the Friedrich Naumann Foundation for Freedom, and a member of Free Thought Forum, a liberal Jordanian NGO and parter organization of D66 Internationaal. Hussam has a special interest in Jordanian economics and migration. For D66 Internationaal, a longtime supporter of IFLRY, he wrote a blog on his experiences during the congress i n Ghana.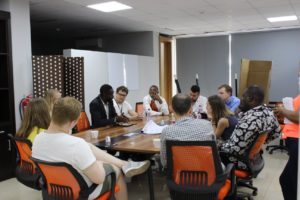 In my country, people are constantly losing their interest in politics; they see no benefit in it. I, as a political enthusiast, find this devastating, I sometimes feel that there is very little or no benefit from what I do.
IFLRY for me is a place where I regain hope, feel less alone, and meet people who have the same ideas about freedom and they are actually interested in politics. Participating in the IFLRY 43rd GA in Accra was a boost of confidence for me, confidence in what I do, and in the ideas that I fight for every day in Jordan.
Alongside with Sven Gerst, elected as Secretary General of IFLRY during this congress, Tone Bjørdal, his predecessor, and Lidia Rauch, I was was honoured to co-organize the general assembly and the conference on "Freedom Fights in the 21st Century". Preparations took months, but attention to the smallest details and a wonderful team spirit eventually resulted in a great event.
Attending the World Café
One particular session I recall was one in which we discussed the level of freedom in different continents and regions around the world in a format called World Café. I moderated the table on the Arab region. Participants identified many challenges affecting freedom in my region; one of the most important challenges that I agree with regards " misconceptions of liberalism". People in my region tend to link "freedom" and "liberalism" to being limitless, irresponsible, and they link it to a certain way of living, while liberalism for me is a way of thinking. It is always relieving to hear that the same problems are faced in different regions; it is also helpful to understand how people are dealing with these problems and how these solutions can be applied to my own context.
Another important challenge discussed was the flow of information and fake media and its influence on public opinion. This is a vital issue in my region; I hear the most awkward, completely fake news that anyone could ever come up with every day. People still tend to believe them, because often this kind of news complies with people's beliefs. Fake news provides them with comfort, and allows them to be more close-minded than ever before. Again, the situation is similar in different regions, and it is a huge concern and a burden on freedom fighters everywhere.
Ideas are the change factor!
One of the nicest sessions that I still clearly remember from the conference was on "The Power of Ideas: The need for a Liberal Utopia". The simple and condensed idea of this presentation, as I got it, was that Ideas, throughout history, are the reason behind change. Ideas transfer into movements and actions, allowing for change to be created. The challenge for us liberals nowadays is to transform ideas into action; this should be done by liberal intellectuals, who are relatively a minority now in the intellectual scene worldwide. We need more liberal intellectuals, whom F. A. Hayek called 'professional secondhand dealers in ideas'.
"What qualifies him for his job is the wide range of subjects on which he can readily talk and write, and a position or habits through which he becomes acquainted with new ideas sooner than those to whom he addresses himself"
Hayek describes the ideal characteristics of the intellectual. And this is where more liberal work needs to be done!
Some reflections
Participating in this GA, gave us—as the Free Thought Forum from Jordan—the opportunity to apply to the full membership of IFLRY. The General Assembly accepted us and we became the first Jordanian entity that is a member of IFLRY. This is a very important step forward for us and for liberalism in Jordan.
For me, personally, this event was insightful, and really tested my coordination and moderation capabilities. Leading a discussion between a huge number of people with different cultural backgrounds, on very interesting and sometimes controversial topics, is not always easy!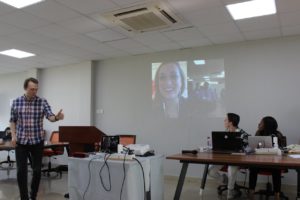 At last, I was responsible for a session called "Education for Freedom", again in World Café format. The topic revolved around how to enhance and innovate our efforts in spreading freedom worldwide, wether in our normal civic educational setting, i.e. in seminars or workshops, or through social media channels. One thing I have learned during our small talks was that we liberals tend to be always politically correct, even in our learning activities, which is limiting the amount of knowledge that we share with each other.
In these four days in Accra, I met people from many different countries, people that came from various backgrounds and cultures. But it became clear to me that we all share the same core values, and that we all have dreams of better life conditions in our countries; of a world that has more freedom. I am sure that we are making a difference!