This week, the executive committee of the African Liberal Youth (ALY) met for the first time ever, in Nairobi, Kenya. The committee, which was elected earlier this year, will define and start the important work of providing a voice for young liberals across Africa and establishing a strong regional network to achieve this. I was happy to represent IFLRY in the sessions with ALY, and worked with them together with the Democratic Alliance (DA, South Africa), Africa Liberal Network (ALN) and the UK Liberal Democrats' International Office, who sponsored the meeting.
During three busy and productive days, ALY discussed and decided on their vision, objectives and plans. Their new vision statement is: We believe in freedom that empowers young people in a globalized African continent. To work towards this vision, they set the following objectives:
to promote liberal education;
to empower liberal youth in Africa;
to provide a voice for Africa's liberal youth.
One of their first tasks was to start their work with social media, by setting up an Instagram, Facebook and Twitter account. Additionally, they plan to create a programme focusing on female representation and leadership, addressing the serious lack of young women in African politics. These important actions are  just the start of ALY. Following their seminar, the executive presented their visions and plans at the ALN General Assembly, which is hosted by the Orange Democratic Movement (ODM) of Kenya. The ALN GA delegates praised and welcomed the executive, and encouraged them to speak frankly, not be afraid of telling the older people when they're wrong, and to promote liberal values among young people all over Africa.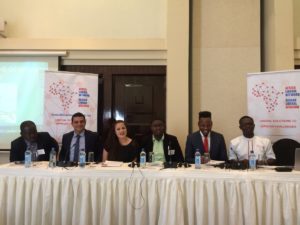 As one of ALY's plans is to start a Female Leadership Programme, the GA participants specifically mentioned the need for more female participation in politics and society. This isn't only an African issue: all over the world, there is a need for a better gender balance in politics. As liberals, we have a responsibility to ensure that all individuals have the same opportunities, no matter their gender, or other differences such as sexual orientation, religion or background.
The focus on gender equality was also brought forward by the GA through the Nairobi Declaration on Prevention and Elimination of Violence against Women. This progressive declaration stated that violence against women and domestic violence constitutes one of the most widespread forms of human rights violations, is a major impediment to economic development, and prevents the fulfillment of all other basic rights. Through the declaration, the ALN members agreed to promote and implement policies to ensure women's access to education, as well as to  work to increase the participation of women, and to work with judicial branches and police forces to ensure the effective protection of women from acts of violence.
It's great to see our global liberal family speak up for women's rights, and also to see and increased focus on youth participation. I'm thrilled to see the youth network take shape, and can't wait to see it develop in the future, and grow into becoming a strong, progressive, liberal voice for young people in Africa.
You can follow Africa Liberal Youth on Twitter: @africaliberyo, Facebook: Africa Liberal Youth, and Instagram: @africaliberalyouth
Tone Bjørndal is the Secretary General of IFLRY, and was previously the programme manager of the IFLRY Climate Change Programme.