A young Sudanese man languishes on a fence next to the railway line that sunny July evening in Calais. In Sudan, perhaps he had been an engineer, an electrician or a teacher. Instead, in this sprawling mass of mud-caked tents and mobile homes, he is one of the estimated ten thousand[1] rendered reliant on volunteer organisations for his basic daily needs, sentenced to an indefinite waiting game in a place in which no government will take responsibility.
We, a group of volunteers, had spent the day helping to prepare meals in the Calais Camp Kitchen for over 1000 of the residents, dismantling wooden pallets for firewood, and sorting through piles of assorted donations in the warehouse. I was impressed by the dedication, level of organisation and the sheer number of volunteers, but horrified at the conditions in the so-called 'Jungle' camp. Saddened that thousands of predominantly young men have been left in such a hopeless situation- these individuals who have risked everything to flee unimaginable conditions at home, only to find themselves stranded in a refugee camp within Europe's borders.
It's hard not to be frustrated by our media, which consistently fails to highlight the horrors faced in the ever-expanding refugee camp right on our border; or to be rendered speechless by the total inaction and apparent pull-the-wool policy that politicians from many parties have successfully adopted. And all the while, it's certainly difficult not to feel utter despair at accounts of disappeared unaccompanied minors, rampant disease, violence and prostitution within the camp.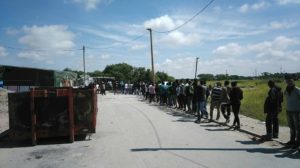 The constant rumours of an imminent demolition of parts of the camp have created a heightened atmosphere of tension in the camp, I'm told. Without any official recognition of the camp, as has been established in the much smaller settlement in Dunkirk, there is little information about the future of the 'Jungle'. The lack of official status also means that there are no large humanitarian organisations operating in the camp. If it weren't for active organisations like Help Refugees, L'Auberge des Migrants, Medecins Sans Frontiers and Care for Calais, most of the refugees in the Calais Jungle would not have access to basic medical care, tents, essential hygiene products and clothing to survive the bitterly cold Calais winter. But a recent surge in numbers arriving at the camp, alongside a dwindling number of donations, has meant that the organisations here are struggling to cope. The closure of the make-shift community eateries in the camp by the French authorities has also increased the number of people who are reliant on donations. Fostering such a culture of dependency is further compounding the helplessness and boredom which runs amok in the camp.
I was there for just one weekend but amongst the intense sadness, there was still an element of hope. That the authorities would recognise the legitimacy of their claims to asylum and that one day they might have the opportunity to carve out a better life for themselves. One Afghan refugee, Iqbal*, had been an interpreter for the US Army for many years in his home country. In the makeshift school yard, he relayed his hope that one day he would again be able to work in a similar capacity. He had a good life, he told me in perfect English, and an obvious knack for languages. He'd been living in the camp for just over three months, and was already able to communicate well in French, and had mastered some Arabic too. He talked of the conditions in the camp in a matter of fact way, and explained that his previous job meant he had little hope of returning home, so long as the Taliban remained at large in his region.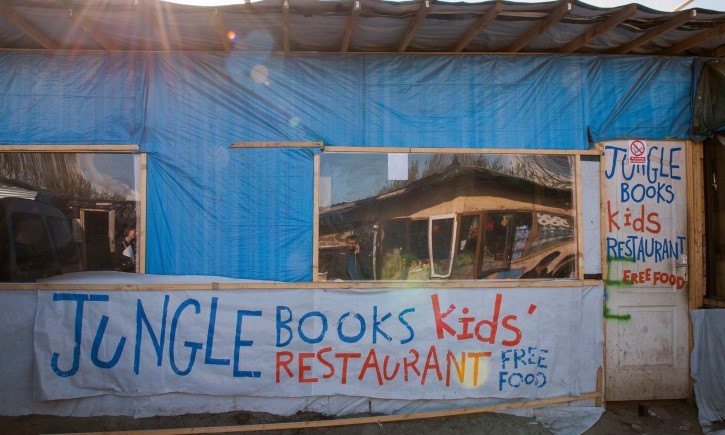 A group of Somali men approached me, looking for some help with English pronunciation. In a matter of minutes, tables and chairs were assembled and we were sat in the adjacent field, reading Pinocchio together. Books and learning materials are available in the camp, courtesy of the Jungle Books initiative which also runs volunteer-led English and French classes on a daily basis.
As we walked away from the camp later that evening, the sun was setting. Several groups of young men were playing cricket with donated bats, and we stopped to watch from the surrounding bank, alongside an eager crowd of onlookers. Behind us, the tents and shipping containers stretched out as far as the eye could see – a sea of mud, tarpaulin and misery.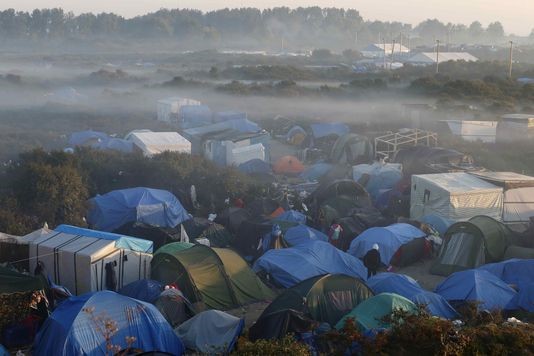 It's perhaps easy to forget the human stories in Calais, and the individuals who are caught up in a crisis of such magnitude. We're confronted by scary images on our television screens, but the reality for thousands of people is that these scary pictures are what they continue to endure on a daily basis. For many of the most vulnerable refugees in Calais, the fear is no longer the unknown, but the very real dangers they face here in the so-called Jungle.
The organisations working in Calais aim to provide immediate relief, legal advice and support – the bare necessities. Instead of a political agenda, there is a deep feeling of solidarity with those very people neglected by the authorities. Let's hope that one day this camp will cease to exist and that the work of such organisations will no longer be needed. But in the meantime, it's perhaps a small comfort to see that as long as the 'Jungle' remains in Calais; there will always be a troupe of volunteers doing what little they can to meet the basic needs in the camp.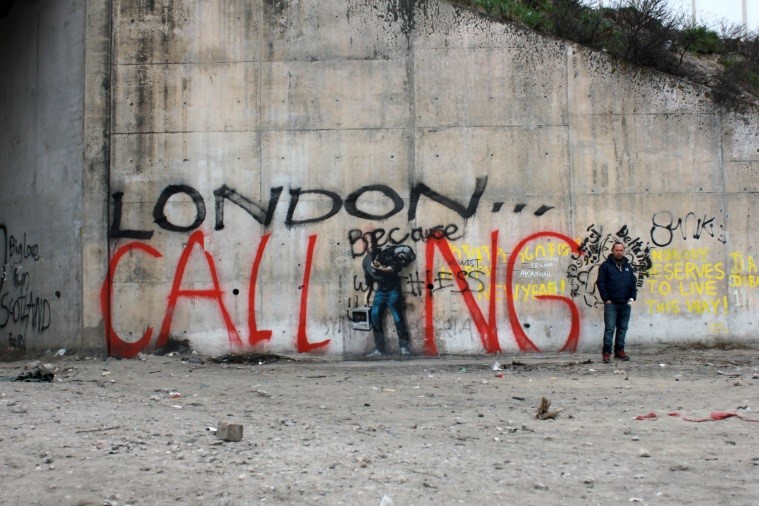 "Once you've been at the camp as a volunteer, you'll be back." Sharon*, a nurse from Galway greeted me when I arrived in Calais – I was fortunate enough to have been placed in a room with her at the local hostel. Her kind, yet practical approach has earned her a great deal of respect in the camp, to which she travels from Ireland to volunteer one week in every month. She has been volunteering with Medecins Sans Frontiers on a regular basis for more than a year now, and is truly one of the many individuals who are making a difference in the camp on a daily basis.
But she was right, and I will be back. I'll be in Brussels collecting donations on September 16th and in London collecting donations on September 15th (see here for more details, including items that are running really low). Cash donations are always appreciated too. If you'd like to volunteer in Calais, you can register your details here and join the Facebook group here. The website Calaid-ipedia is also a very useful source of information and is constantly being updated. Alternatively, if you're unable to make it to Calais or Dunkirk, have a look on the Serve the City website, which runs local initiatives in cities all over the world, including the fantastic Brussels-based project Breakfast for Refugees.
*Names have been changed to preserve the anonymity of those mentioned in this article. 
[1] According to the monthly Census carried out by Help Refugees, there were 9106 refugees living in the camp as of 12/08, with around 500 arriving each week. There has been a 29% increase of arrivals in the last month, with at least 10,000 expected to be living in the 'Jungle' camp by the end of August