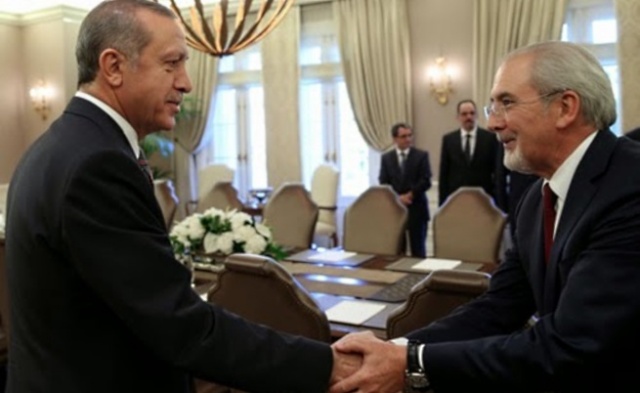 Виж по-долу за българската версия на тази статия. / See below for the Bulgarian version of this article.
Allow me to briefly share what provoked me to write this article: I will not write about the things that every political scientist writes about the upcoming Turkish referendum, or in what way the constitutional amendments would unprecedentedly change the secular character of Turkey. I would like instead, to shed light on why Bulgaria, a country directly neighbouring Turkey, a will be directly affected by a yes-vote. (Find out more about the referendum here.) And not only Bulgaria, but also the Balkans. And ass history has showed us many times, what happens on the Balkans is always affects Europe afterwards. George Santayana has once said that those who cannot remember the past are condemned to repeat it. I hope we will prevent ourselves from doing so this time.
Let me start with a short overview on the results of the recent parliamentary elections in Bulgaria, which were held on 26th of March. Those elections were some of the most dramatic ever, not only for my organization – the Movement for Rights and Freedoms, but also for Bulgaria, due to 2 reasons:
They showed that Bulgaria is not isolated from the rising of right-wing populism in Europe, as they allowed an anti-establishment coalition of parties to become third political power in Bulgaria and to become part of the next Bulgarian government.
It was really hard, but we managed to deal with an anti-national political entity which threatened to destroy the ethnic peace in our country and serve foreign interests. I will elaborate on this later.
Looking from this perspective, the outcome of this referendum is important to us, because it will determine our political life for a long time. Turkey must be a secular and secure state in which the rights and freedoms of all its citizens are defended.
Maybe few liberal friends know that around 1 million Bulgarian citizens (99.5% of whom are Muslim) live in Turkey and under all circumstances Bulgaria must take care of them. It is a core national interest – to protect all its citizens regardless of their residence and origin so their freedoms and rights to be defended not systematically violated.
Of course without using the method of the authoritarian leaders – by interfering in the internal affairs of a sovereign state. It should be done through the methods of so-called soft power: diplomacy and cooperation with the country in which they live.
However, when any collaboration is used to directly influence the internal political life of a country (as Turkey does in Bulgaria, through establishment and support of parties and other religious proxies) we cannot just stay complacent. However, this is not the topic of this article.
This short analysis focuses on why we should not allow Turkey to extend its imperial ambitions on the Balkans by cleverly using the Muslim minorities in all Balkan states. Right here is our role.
We need to speak openly in order to resist the neo-ottoman ideology of Erdogan used to take control over Muslims for his ambitions. During the last 2 months we saw how he used the Muslims in Germany and the Netherlands for the sake of the referendum, apropos he does the same with the Bulgarian muslims. What scares me most is the fact that he attempted to take control over the Turkish minority in Bulgaria by supporting political and religious intermediaries.
Let's look at the possible consequences of a yes-vote for Bulgaria and the Balkans. The answer is clear – geopolitical instability, because the Kurds will not reconcile to be represented by Erdogan and many political scientists talk about a civil war, which will undoubtedly lead to migrant crisis, political instability because of the interference into political and religious life of Bulgaria – Erdogan will continue to actively support religious and political players for the sake of his neo-ottoman strategy.
Those fears are real. The  recent parliamentary elections in Bulgaria showed that Erdogan could interfere in the internal affairs of Bulgaria. During the election campaign, the Turkish minister for labour and social policy, Mehmet Myuzineolu, called on all Bulgarians living in Turkey (approximately 1 million citizens) to vote for the newly established party of Lyutvi Mestan, which is seen by many analysts as a Turkish Trojan Horse, and which was established with the cooperation of the Turkish ambassador in Bulgaria: Syuleyman Gyokche.
In this respect, the fact that the abovementioned political party did not pass the election threshold required to enter parliament is a victory for democracy and preservation of the ethnic peace in the country. However it is only a battle. In order to win the war, we, the Balkan states should openly say with a liberal voice: "Vote 'no' in the referendum!".
Gyulfie Arnaudova is living in Sofia, Bulgaria. She is currently International officer of Youth MRF. She has obtained Bachelor's degree in Sociology and Anthropology ,and Master's degree in International affairs an security.
– Bulgarian version –
Турският референдум и тайните страхове в България
Ще си позволя да споделя накратко, какво ме провокира да напиша тази статия. Няма да прочетете неща, каквито повечето политически анализатори коментират по повод на конституционните промени в Република Турция и това как те биха променили светския характер на страната завинаги или как биха оставили в ръцете на президента Ердоган цялата власт, от която има нужда, за да води страната по един неоосманистки и ислямистки път на развитие.
Ще прочетете защо една съседна на Република Турция държава – България ще бъде пряко засегната от тези промени. И не само България, но и Балканите … и както неведнъж историята ни е показвала – от Балканите се пренася в цяла Европа. Тук ще си позволя да цитирам Сантаяна: "Който пренебрегва историята, е осъден да я повтаря."
Ще започна с кратък обзор на резултатите от последните избори в България, които бяха на 26 март тази година. Това бяха най-тежките избори не само за моята организация, но и за България.
Поради 2 причини:
Те показаха, че България също не е изолирана от надигащия се в Европа десен популизъм, като позволиха на една антисистемна коалиция от партии да стане трета политическа сила в страната и по всяка вероятност да бъде част от новото правителство на България.
Трудно, но все пак преборихме още един антинационален субект, заплашващ да разруши етническия мир в страната, граден цели 27 години от демократичната ни история.
От тази гледна точка, за нас е важен резултата от предстоящия референдум в Турция, защото именно той ще определи до голяма степен как ще се развива общественополитическия живот в България. Турция трябва да остане светска и стабилна страна, в която се зачитат правата и свободите на всички нейни граждани. Може би малко от нашите приятели либерали знаят, че в Турция пребивават около 1 млн. български граждани (99.5 % от тях са с мюсюлмански произход) и България е пряко заинтересована от това как живеят те. Дори повече, това е български национален приоритет – да защитава и помага на своите общности така, че те да могат да живеят свободно, без да бъдат нарушавани системно техните човешки и граждански права. Разбира се, не по метода, използван от авторитарни лидери – чрез намеса във вътрешните работи на една суверенна страна, а чрез методите на меката сила, дипломацията и сътрудничеството със съответната страна, в която живеят.
Когато обаче едно сътрудничество е използвано, за да влияеш пряко върху вътрешнополитическия живот на една страна (така както прави Турция в България чрез създаване и подкрепа на партийни и религиозни проксита), ние не можем да останем безучастни. Това обаче не е тема на настоящата статия.
В този кратък анализ се концентрирам върху това, защо ние не трябва да допускаме Турция да разпростре своите имперски амбиции на Балканите, използвайки умело мюсюлманските малцинства във всички балкански държави. Точно тук е нашата роля.
Да говорим за това и да не се поддаваме на пропагандата, която неоосманистката идеология използва, за да контролира и използва мюсюлманите за своите имперски амбиции – така както го прави с турските граждани в Германия или Холандия за целите на своя референдум и така, както го прави в България – чрез създаване на свои политически и религиозни посредници, за да изпълни геополитическите си претенции.
Какъв ще бъде резултата за България и Балканите, ако турските граждани кажат "да" на референдума?
Отговорът е ясен – геополитическа нестабилност, защото кюрдите няма да се примирят с това да бъдат представлявани от Ердоган и не е много далечен сценария с гражданска война, която да повлече след себе си мигрантска вълна, политическа нестабилност чрез намеса в политическия и религиозния живот – Ердоган ще продължи да подкрепя активно религиозни и политически играчи за целите на своята неоосманистка стратегия.
За съжаление, тези страхове са не без основание. Последните парламентарни избори в България показаха, че Ердоган може да се намесва пряко във вътрешния живот на България. В хода на предизборната кампания, турският социален министър Мехмет Мюезиноглу призова всички български изселници в Турция (около 1 млн. души), да гласуват за новорегистрираната партия на Лютви Местан, за която много анализатори твърдят, че е троянския кон на Турция в България и която бе учредена с прякото сътрудничество между турския посланик в България – Сюлейман Гьокче и лидера на партията.
В този смисъл, това, че тази партия не мина бариерата за влизане в НС е спечелена битка в името на демокрацията и етническия мир в България. Но това е само битка. За да спечелим войната, ние, балканските държави трябва да изречем с ясен либерален глас: "Не! на референдума".
Гюлфие Арнаудова живее в София, България. В момента е Международен секретар на Младежко ДПС. Има бакалавърска степен по "Социология и антропология" и магистърска степен по "Международни отношения и сигурност".